Hotel Management and Operations, 4th Edition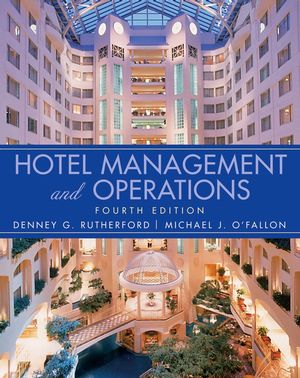 Hotel Management and Operations, 4th Edition
ISBN: 978-0-470-07360-5 April 2006 496 Pages
Description
This Fourth Edition helps readers develop the wide-ranging knowledge and analytical skills they need to succeed in today's burgeoning and dynamic hotel industry. This comprehensive volume encourages critical thinking by providing different points of view through contributions from sixty leading industry professionals and academics. Within a coherent theoretical structure, this updated edition enables readers to formulate their own ideas and solutions.
Preface.
Contributors.
Acknowledgments.
CHAPTER 1. OVERVIEW.
1.1 Introduction.
1.2 The Hotel Development Process (John Dew).
1.3 How Well Does the Branded Distribution Company Allow Independent Hotels to Compete with the Chains (Peter Cass)?
1.4 The Art and Science of Opening a Hotel (Tom Dupar).
1.5 On-line Pricing: An Analysis of Hotel-company Practices (Peter O'Connor).
1.6 Customer Relationship Management-A Driver for Change in the Structure of the U.S. Lodging Industry (Gabriele Piccoli, Peter O'Connor, Claudio Capaccioli and Roy Alvarez)
1.7 Spas and the Lodging Industry (Peter C. Anderson).
Suggested Readings.
Source Notes.
L?gen zu den Aufgaben
Literatur

CHAPTER 2. ORGANIZATION.
2.1 Introduction.
2.2 Organizational Design (Eddystone C. Nebel).
2.3 As I See It: Hotel Organization Structure (Mark Conklin).
References.
Suggested Readings.
Source Notes.
CHAPTER 3. GENERAL MANAGERS: A VIEW AT THE TOP.
3.1 Introduction.
3.2 A Conceptual Framework of the Hotel General Manager's Job (Eddystone C. Nebel, and Ajay Ghei).
3.3 Grooming Future Hospitality Leaders: A Competencies Model (Beth G. Chung-Herrera, Cathy A. Enz and Melenie J. Lankau).
3.4 As I See It: What I Do (Emilio Fabico).
3.5 A Day in the Life of a Hilton Hotel General Manager (Robert O. Balmer).
3.6 A Day in the General Manager's Life (Bob Peckenpaugh).
3.7 Mini Case: Sunset Hotels & Suites.
References.
Suggested Readings.
Source Notes.
CHAPTER 4. OPERATIONS: ROOMS.
4.1 Introduction.
4.2 The Electrifying Job of the Front Office Manager (James A. Bardi).
4.3 A Day in the Life of the Front Office Manager (Garry Dickover).
4.4 Yield Management: Choosing the Most Profitable Reservations (William J. Quain and Stephen M. LeBruto).
4.5 Concierge (cone-see-air-j) (Mario Arnaldo).
4.6 As I See It: Management of the Front Office (Oliver Meinzer).
4.7 Mini Case: The New FOM.
4.8 To Change or Not To Change: A Case Study at the Front Desk (Nancy Swanger).
References.
Suggested Readings.
Source Notes.
CHAPTER 5. OPERATIONS: HOUSEKEEPING, ENGINEERING, AND SECURITY.
5.1 Introduction.
5.2 A Day in the Life of a Director of Rooms (Kurt Englund).
5.3 Housekeeping Organizations: Their History, Purpose, Structures, and Personnel (Thomas Jones).
5.4 On Being an Executive Housekeeper (John Lagazo).
5.5 The Hotel Engineering Function: Organization, People, and Issues in the Modern Era (Denney G. Rutherford).
5.6 The Engineering Department and Financial Information (Agnes Lee DeFranco and Susan B. Sheridan).
5.7 The Legal Environment of Lodging Operations (Melissa Dallas).
5.8 Asphalt Jungle (Je'anna Abbott and Gil Fried).
5.9 Workplace Violence in Hotels (Mark Beattie and Jacinta Gau).
5.10 Case Study: Housekeeping, Engineering and Security.
References.
Suggested Readings.
Source Notes.
CHAPTER 6. FOOD AND BEVERAGE DIVISION.
6.1 Introduction.
6.2 Managing Food and Beverage Operations in Lodging Organizations (Robert H. Bosselman).
6.3 As I See It: Hotel Director of Food and Beverage (Dominic Provenzano).
6.4 Best Practices in Food and Beverage Management (Judy A. Siguaw and Cathy A. Enz).
6.5 Strategic Alliances Between Hotels and Restaurants (Robert W. Strate and Clinton L. Rappole).
6.6 Contemporary Hotel Catering (Patti J. Shock and John Stefanelli).
6.7 A Day in the Life of an Executive Director of Catering Sales and Convention Services (Rich Benninger).
6.8 The Organization and Management of Hotel Beverage Operations (Valentino Luciani).
6.9 Case Study: Crisis in the Food Court (Nancy Swanger).
6.10 Case Study: Outside the Box in the Food and Beverage Division.
References.
Suggested Readings.
Source Notes.
CHAPTER 7. MARKETING AND ASSOCIATED ACTIVITIES.
7.1 Introduction.
7.2 Building Market Leadership: Marketing as Process (Fletch Waller).
7.3 Consumer Decision Rules and Implications for Hotel Choice (Bianca Grohmann and Eric Spangenberg).
7.4 Hotel Pricing (Marta Sinclair and Carl R. Sinclair).
7.5 A Day in the Life of a Regional Revenue Manager (Paul Chappelle).
7.6 Hotel Sales Organization and Operations (Margaret Shaw and Susan V. Morris).
References.
Suggested Readings.
Source Notes.
CHAPTER 8. FINANCIAL CONTROL AND INFORMATION MANAGEMENT.
8.1 Introduction.
8.2 The LodgingChief Financial Executive (Raymond S. Schmidgall).
8.3 Budgeting and Forecasting: Current Practice in the Lodging Industry (Raymond S. Schmidgall and Agnes L. DeFranco).
8.4 As I See It: The Hotel Controller (Mike Draeger).
8.5 The Hotel Purchasing Function (C. Lee Evans).
8.6 Data Mining for Hotel Firms: Use and Limitations (Vincent P. Magnini, Earl D. Honeycutt, Jr. and Sharon K. Hodge).
References.
Suggested Readings.
Source Notes.
CHAPTER 9. HUMAN RESOURCES POLICY MANAGEMENT.
9.1 Introduction.
9.2 Driving Hospitality Into the Future (Christian Hardigree, Ellis Norman, Gail Sammons, Vince Eade, William Werner, Robert H. Woods and Cheri Young).
9.3 The Causes and Consequences of Turnover in the Hospitality Industry (Carl D. Riegel).
9.4 Current Issues in Hospitality Employment Law (Suzanne K. Murrmann and Cherylynn Becker).
9.5 The Strategic and Operational Roles of Human Resources-An Emerging Model (J. Bruce Tracey and Arthur E. Nathan).
Index.
Features the works of hotel industry leaders in all facets of the operation.
New Instructor's Manual will enhance the classroom application of this book.
New readings on security and human resources will have relevance for students and professionals alike.