House and Philosophy: Everybody Lies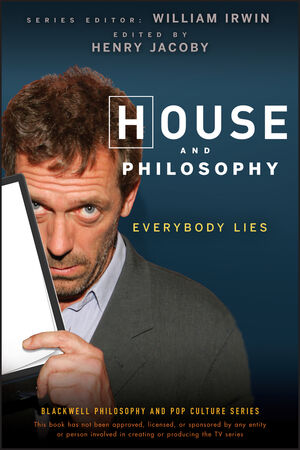 House and Philosophy: Everybody Lies
ISBN: 978-0-470-73021-8
May 2009
272 pages
Description
An unauthorized look at the philosophical issues raised by one of today's most popular television shows: House

House is one of the top three television dramas on the air, pulling in more than 19 million viewers for each episode. This latest book in the popular Blackwell Philosophy and Pop Culture series takes a deeper look at the characters and issues raised in this Emmy Award-winning medical drama, offering entertaining answers to the fascinating ethical questions viewers have about Dr. Gregory House and his medical team.

Henry Jacoby (Goldsboro, NC) teaches philosophy at East Carolina University. He has published articles primarily on the philosophy of mind and was a contributor to South Park and Philosophy
(978-1-4051-6160-2).
Acknowledgments.
"Read Less, More TV: A Cranky, Slightly Rude Introduction".
I. "HUMANITY IS OVERRATED." HOUSE ON LIFE.
1. Selfish, Base Animals Crawling Across the Earth: House and the Meaning of Life (Henry Jacoby).
2. House and Sartre: "Hell is Other People" (Jennifer L. McMahon).
3. Is There a Superman in the House? A Nietzchean Point of View (David Goldblatt).
4. House and Moral Luck (Jane Dryden).
II. "WELCOME TO THE END OF THE THOUGHT PROCESS." HOUSE'S LOGIC AND METHOD.
5. The Logic of Guesswork in Sherlock Holmes and House, M.D. (Jerold J. Abrams).
6. It Explains Everything (Barbara Anne Stock)!
7. The Sound of One House Clapping: Rude Diagnostician as Zen Rhetorician (Jeffrey C. Ruff and Jeremy Barris).
8. "Being nice is overrated": House and Socrates on the Necessity of Conflict (Melanie Frappier).
9. Is There a Daoist in the House (Peter Vernezze)?
III. "IT IS THE NATURE OF MEDICINE THAT YOU ARE GOING TO SCREW UP." HOUSE AND ETHICAL PRINCIPLES.
10. "You care for everybody": Cameron's Ethics of Care (Renee Kyle).
11. To Intubate or not to Intubate: House's Principles and Priorities (Barbara Anne Stock and Teresa Blankmeyer Burke).
12. House, M.D., and Medical Paternalism: "You can't always get what you want." (Mark R. Wicclair).
13. If the End Doesn't Justify the Means, Then What Does (Catherine Sartin)?
14. House vs. Tritter: On the Clash of Theoretical and Practical Authority (Kenneth Ehrenberg).
IV. "THE DRUGS DON'T MAKE ME HIGH, THEY MAKE ME NEUTRAL." VIRTUES AND CHARACTER ON HOUSE.
15. House and the Virtue of Eccentricity (John R. Fitzpatrick).
16. Love: The Only Risk House Can't Take (Sara Protasi).
17. A Prescription for Friendship (Sara Waller).
18. Diagnosing Character: A House Divided (Heather Battaly and Amy Coplan)?
Contributors: Princeton-Plainsboro Teaching Hospital Staff.
Index.