Housework: Craft Production and Domestic Economy in Ancient Mesoamerica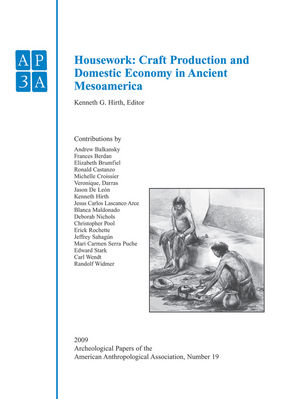 Housework: Craft Production and Domestic Economy in Ancient Mesoamerica
ISBN: 978-1-444-33669-6
Feb 2010, Wiley-Blackwell
252 pages
Description
Households are, without question, the most important social units in human society. They are interactive social units whose primary concern is the day-to-day well being of their kith and kin. Households reproduce themselves and provide their members with the economic, psychological, and social resources necessary to live their lives. Although households vary enormously in size and organization, they are the fundamental social settings in which families are defined and cultural values are transmitted through a range of domestic activities and rituals. Despite their many functions, it is the range and productivity of their economic activities that determine the success, survival and well being of their members. Households are the primary production and consumption units in society and provide the vehicle through which resources are pooled, stored, and distributed to their members. Survival and reproduction is their business and the work they do determines their success.
SECTION I: VOLUME INTRODUCTION.
1. Housework and Domestic Craft Production: An Introduction (Kenneth Hirth).
2. Craft Production, Household Diversification, and Domestic Economy in Prehispanic Mesoamerica (Kenneth Hirth).
SECTION II: THE PRODUCTION OF UTILITARIAN GOODS.
3. The Scale and Structure of Bitumen Processing in Early Formative Olmec Households (Carl J. Wendt).
4. Rethinking the Organization of Aztec Salt Production: A Domestic Perspective (Jason P. De Leon).
5. Multicrafting in Prehispanic Oaxaca (Andrew K. Balkansky and Michelle M. Crossier).
6. Intermittent Crafting and Multicrafting at Xochicalco (Kenneth Hirth).
7. Peasant Artisans: Household Prismatic Blade Production in the Zacapu, Region, Michoacan (Milpillas Phase 1200-1450 AD) (Veronique Darras).
8. Residential Pottery Production in Mesoamerica (Christopher A. Pool).
9. Ceramics on the Side: Pottery Making as an Augmentation of Household Economy in the Valley of Puebla during the Formative Period (Ronald A. Castanzo).
SECTION III: THE PRODUCTION OFWEALTH GOODS.
10. Production and Use of Orchid Adhesives in Aztec Mexico: The Domestic Context (Frances F. Berdan, Edward A. Stark, and Jeffrey D. Sahagun).
11. Intermittent Domestic Lapidary Production during the Late Formative Period at Nativitas, Tlaxcala, Mexico (Kenneth G. Hirth, Mari Carmen Serra Puche, Jesus Carlos Lascanco Arce, and Jason De Leon).
12. Elite Household Multicrafting Specialization at 9N8, Patio H, Copan (Randolph J. Widmer).
13. Jade in Full: Prehispanic Domestic Production of Wealth Goods in the Middle Motagua Valley, Guatemala (Erick T. Rochette).
14. Metal for the Commoners: Tarascan Metallurgical Production in Domestic Contexts (Blanca Maldonado).
SECTION IV: CONCLUSIONS.
15. Bitumen, Blades, and Beads: Prehispanic Craft Production and the Domestic Economy (Elizabeth M. Brumfiel and Deborah L. Nichols).
List of Contributors.