How Baking Works: Exploring the Fundamentals of Baking Science, 2nd Edition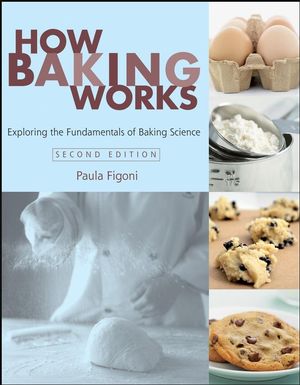 How Baking Works: Exploring the Fundamentals of Baking Science, 2nd Edition
ISBN: 978-0-470-16479-2 August 2007 416 Pages
Description
This book takes the future pastry chef and baker through the major ingredient groups, explaining how sweeteners, fats, milk, leavening agents, and other ingredients work. New to the edition, the book provides expanded end-of-chapter exercises and lab experiments to reinforce concepts. It features in-depth coverage of the ?whys? of baking, taking students beyond the basic techniques. Its ingredient-oriented approach explains how sweeteners, fats, leavening agents, and other ingredients work, and applies that knowledge to food products.
Table of contents
Preface.
Chapter 1. Introduction to Baking.
Chapter 2. Heat Transfer.
Chapter 3. Overview of the Baking Process.
Chapter 4. Sensory Properties of Food.
Chapter 5. Wheat Flour.
Chapter 6. Variety Grains and Flours.
Chapter 7. Gluten.
Chapter 8. Sugar and Other Sweeteners.
Chapter 9. Thickening and Gelling Agents.
Chapter 10. Fats, Oils, and Emulsifiers.
Chapter 11. Eggs and Egg Products.
Chapter 12. Milk and Milk Products.
Chapter 13. Leavening Agents.
Chapter 14. Natural and Artificial Flavorings.
Chapter 15. Fruit and Fruit Products.
Chapter 16. Nuts and Seeds.
Chapter 17. Cocoa and Chocolate Products.
Bibliography.
Index.
New To This Edition
Expanded coverage of sweeteners, enzymes and reducing agents, starch structure and gelatinization, and gluten structure

Important coverage of changes to federal laws, such as food allergen labeling

New coverage reflecting consumer awareness of nutrition and health, including information on dietary fiber, trans fats, and trans-free fats in the baking context

New Questions for Discussion at the end of each chapter that require integration of information from several areas of each chapter
Features
Thoroughly covers the entire baking process, emphasizing the "whys" at work behind basic techniques

Takes readers through the major ingredient groups, explaining how sweeteners, fats, milk, leavening agents and other ingredients affect the appearance, flavor, and texture of the end product

Covers scaling and measurements, heat transfer, and sensory properties in baking

Strong pedagogy including chapter objectives, clear text, and end-of-chapter review questions that reinforce key concepts

Hands-on lab experiments at the end of each chapter, with many involving the sensory evaluation of ingredients

Accompanied by a full instructor ancillary package of PowerPoint slides,test questions, and an Instructor's Manual with additional experiments and projects for students