How Children Understand War and Peace: A Call for International Peace Education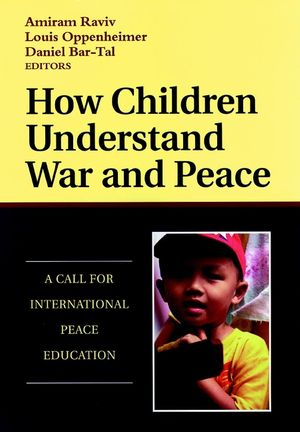 How Children Understand War and Peace: A Call for International Peace Education
ISBN: 978-0-787-94169-7
May 1999
352 pages
Description
How Children Understand War and Peace is a landmark book that examines these two vital questions and provides a solid framework on which to build answers. Written by an international panel of experts in the fields of developmental, social, and educational psychology, How Children Understand War and Peace presents a collection of the most current thoughts and insights into how children and adolescents develop an understanding of war, conflict, and peace.

Based on research studies done in Australia, Canada, Finland, Holland, Israel, Portugal, Northern Ireland, Sweden, and the United States, this comprehensive volume presents evidence that perceptions of war and peace formed during childhood relate directly to adult perspectives on these critical issues. The contributors present persuasive evidence that our knowledge about how youngsters from around the globe develop and form worldviews can be used to create educational programs that teach children peace education, conflict management, and conflict resolution.
Preface.

Introduction: Understanding Peace, Conflict, and War Louis Oppenheimer, University of Amsterdam;
Daniel Bar-Tal, Tel Aviv University;
Amiram Raviv, Tel Aviv University.

DEVELOPMENTAL PERSPECTIVES.

Children, War, and Peace: A Review of Fifty Years of Research from the Perspective of a Balanced Concept of Peace EducationLennart Vriens, Utrecht University.

I Know What You Are Thinking: The Role-Taking Ability and Understanding of Peace and WarIlse Hakvoort and Louis Oppenheimer, University of Amsterdam.

The Peace Personality Robert C. Ziller, Dahlie S. Moriarty, and Stephen T. Phillips, University of Florida.

Toward a Positive Conception of Peace Orlando Lourenco, University of Lisbon.

SOCIALIZATION AND EXPERIENCE.

Cultural Socialization and Conceptions of War and Peace: A Cross-National Comparison Katherine Covell, University College of Cape Breton.

Concept Formation of War and Peace: A Meeting Point Between Child Development and a Politically Violent Society Raija-Leena Punam trade, University of Helsinki.

Children, Peace, and War in Northern Ireland Frances McLernon and Ed Cairns, University of Ulster.

Beliefs About War, Conflict, and Peace in Israel as a Function of Developmental, Cultural, and Situational Factors Amiram Raviv, Tel Aviv University;
Daniel Bar-Tal, Tel Aviv University;
Leah Koren-Silvershatz, Israeli Ministry of Health;
Alona Raviv, Tel Aviv University.

Peer Relationships and Children's Understanding of Peace and War: A Sociocultural Perspective Solveig trade Goteborg University.

Correlates, Consequences, and Cross-Cultural Issues Michael R. Van Slyck, Research Institute for Dispute Resolution;
Marilyn Stern, State University of New York, Albany;
Salman Elbedour, Ben Gurion University at Negev.

LEARNING IN SCHOOLS.

Teaching Conflict and Conflict Resolution in School: (Extra-)Curricular Considerations Kathy Bickmore, University of Toronto.

Teaching an Understanding of War and Peace Through Structured Academic Controversies Patricia G. Avery, David W. Johnson, Roger T. Johnson, and James M. Mitchell, University of Minnesota.

Learning Conflict Management Through Peer Mediation Robin Hall, Charles Sturt University.

Types of Peace Education Ian M. Harris, University of Wisconsin at Milwaukee.

About the Editors.

About the Contributors.

Index.
"This landmark book will help open the way to advances in research on the development of children's conceptions of peace and on the practice of peace education." (Milton Schwebel, editor, Peace and Conflict: Journal of Peace Psychology)

"I welcome this important new book. The editors and contributors have given us a new and valuable account of how young people understand the essential issues of war and peace. Not only is this a large step forward in the study of child and adolescent social cognition, but, in addition, the knowledge base in this book suggests ways to educate the younger generation toward more peaceful resolutions of dangerous social conflicts." (William Damon, professor and director, Stanford Center on Adolescence)

"The first comprehensive overview of current research on children's understanding of peace, conflict, and war, this book shows the richness of children's understanding in its sociocultural context. It challenges us to think deeply about the connections between human development, war, and peace and about how to educate for a culture of peace." (Michael G. Wessells, professor of psychology, Randolph-Macon College)

"This comprehensive book discusses research on how peace, conflict, and war are interpreted by youngsters from different cultures and how such knowledge can help educators contribute to building peace. Anyone interested in peace and conflict, child development, and education will find many useful insights and a wealth of diverse approaches for working with children in this important new book." (?ke Bjerstedt, professor emeritus of education, Lund University, Sweden)