How College Affects Students: Findings and Insights from Twenty Years of Research, Volume I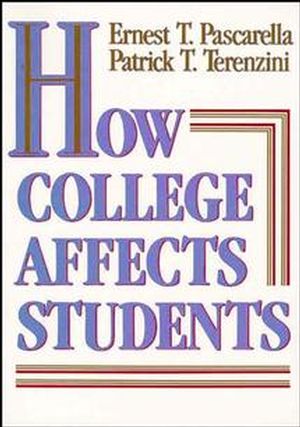 How College Affects Students: Findings and Insights from Twenty Years of Research, Volume I
ISBN: 978-1-555-42338-4 August 1991 Jossey-Bass 920 Pages
Description
Foreword by Kenneth A. Feldman

Not since Feldman and Newcomb's 1969 landmark book, TheImpact of College on Students has there been such acomprehensive resource available on what is known about the effectof college on students. In this book, Pascarella and Terenzini takeup where Feldman and Newcomb left off, synthesizing twenty moreyears of empirical research and over 2,600 studies, distilling whatis known about how students change and benefit as a consequence ofattending college.
Cannot be combined with any other offers.
Original Price:$180.00
Purchased together:$135.00
save $45.00
Table of contents
Foreword
1. Studying College Outcomes: Overview and Organization of theResearch
2. Theories and Models of Student Change in College
3. Development of Verbal, Quantitative, and Subject MatterCompetence
4. Cognitive Skills and Intellectual Growth
5. Psychosocial Changes: Identity, Selt-Concept, andSelf-Esteem
6. Psycholsocial Changes: Relating to Others and the ExternalWorld
7. Attitudes and Values
8. Moral Development
9. Educational Attainment
10. Career Choice and Development
11. Economic Benefits of College
12. Quality of Life After College
13. How College Makes a Difference: A Summary
14. Implications of the Research for Policy and Practice
AppAndix: Methodological and Analytical Issues in Assessing theInfluence of College
Reviews
An extraordinarily well documented and comprehensive analysis of how the higher education experience affects students. The authors analyze more than 3,000 separate studies.... This volume is a gold mine of information and analysis.