How Come Every Time I Get Stabbed in the Back My Fingerprints Are on the Knife?: And Other Meditations on Management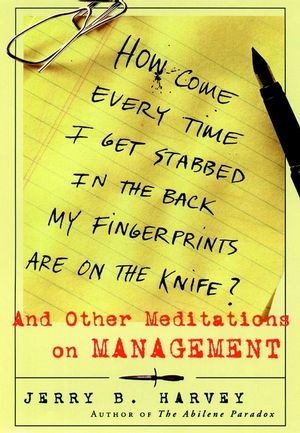 How Come Every Time I Get Stabbed in the Back My Fingerprints Are on the Knife?: And Other Meditations on Management
ISBN: 978-0-787-94787-3
Aug 1999, Jossey-Bass
288 pages
Description
The role we each play in our own downfalls create the profound--and profoundly entertaining--basis for this series of linked ""meditations"" as the author of The Abilene Paradox takes another irreverent look at the nature of life on the job. In this work, Harvey explores the ethical, moral, and spiritual dilemmas we all face in the modern world of work. But he does it in a most unconventional way. His is an approach that mixes equal parts humor, philosophy, and insight to make us laugh, think, and examine organizational behavior in a brand new light. The twelve essays themselves carry such spirited titles as ""What If I Really Believe this Stuff,"" ""On Tooting Your Own Horn,"" and ""Ode to Waco."" Altogether, it's an enthralling collection of wise and witty parables that illustrate the redemptive value of the truth in a voice that is ultimately understanding of human shortcomings.
Acknowledgements.

The Author.

Introduction: It's Not My Dog.

Some Thoughts About Organizational Back Stabbing or How Come Every Time I Get Stabbed in the Back My Fingerprints are on the Knife?

The Spin Doctors: An Invitation to Meditate on the Organizational Dynamics of the Last Supper and Why Judas was not the Traitor.

On the Ethics of Standing for Something or Sitting on Our Duffs.

Learning to Not*Teach.

Prayers of Communication and Organizational Learning.

This Is a Football: Leadership and the Anaclitic Depression Blues.

What If I Really Believe This Stuff?

Musing About the Elephant in the Parlor or ""Who the Hell Is Elliot Jaques?""

On Tooting Your Own Horn or Social Intervention as the Process of Releasing Flatus in the Confines of Religious Institutions.

Ode to Waco: When Bizarre Organizational Behavior Is Concerned, God Works in Strange and Mysterious Ways.

When We Buy a Pig: The Tragedy of the No-Nonsesne Manager.

Afterword: In Memory of Suzanne.

Notes.

References.
""Jerry Harvey has the uncanny ability of observing the ordinary yet seeing the extraordinary. His insights are both provocative and useful, no common combination. Reading this book, you will learn to see the world through another lens."" (W. Warner Burke)

""Here are real organizational worlds both terrifying and hilarious, where people say and do things that they don't do anywhere else, and feel things that they don't feel anywhere else, and fortunately Jerry Harvey is there, too, to record it, reflect on it, and help us learn from it. Bless him!"" (Peter Vaill, professor and holder of the Distinguished Chair in Management Education, University of St. Thomas, Minnesota)

""A decade ago, Jerry Harvey's Abilene Paradox indelibly entered the lexicon as a metaphor for unproductive group behavior. Now, he's identified an equally damaging-and paradoxical-pattern of individual self-destruction. And, once again, he offers the same invaluable prescription: Tell the truth to everyone?especially yourself. Ah, if only this time we will listen."" (James O'Toole, author, Leadership A to Z)