How Community Colleges Can Create Productive Collaborations with Local Schools: New Directions for Community Colleges, Number 111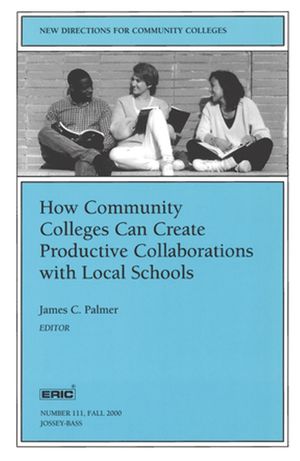 How Community Colleges Can Create Productive Collaborations with Local Schools: New Directions for Community Colleges, Number 111
ISBN: 978-0-787-95428-4 November 2000 Jossey-Bass 120 Pages
Description
This issue details innovative ways that community colleges and high schools can work together to help students navigate the difficult passage from secondary to higher education. The contributors discuss new state and federal policies that will help facilitate collaboration by bridging the administrative gap between the K-12 and community college systems, and analyze several types of collaborative programs, including tech-prep initiatives, concurrent enrollment, and "middle college high schools" run by community colleges for at-risk high school students. They also provide detailed case studies of actual collaborations between specific community colleges and high school districts, discuss legal problems that can arise when high school students enroll in community colleges, and more. This is the 111th issue of the quarterly journal New Directions for Community Colleges.
1. Building Bridges or Barriers? Public Policies That Facilitate or Impede Linkages Between Community Colleges and Local School Districts (Katherine Boswell).
2. A K-12 Perspective on Partnerships with Community Colleges (Al Azinger).
3. Maximizing the Benefits of Tech-Prep Initiatives for High School Students (Debra D. Bragg).
4. Lessons Learned from Current State and National Dual-Credit Programs (Hans A. Andrews).
5. Establishing and Sustaining a Middle College High School (Cecilia L. Cunningham, Chery S. Wagonlander).
6. Working with Schools to Ease Student Transition to the Community College (Lemuel W. Watson).
7. Working with Schools to Prepare Students for College: A Case Study (Charlene R. Nunley, Mary Kay Shartle-Galotto, Mary Helen Smith).
8. Working with Urban Schools That Serve Predominantly Minority Students (Mary Kuang-chi Chen, James L. Konantz, M. Lucia Rosenfeld, Clara Frost).
9. Anticipating Legal Problems When Working with High School Students (Elizabeth T. Lugg).
10. Demographics, State Education Reform Policies, and the Enduring Community College Role as an Extension of the Schools (James C. Palmer).
11. Sources and Information (Charles L. Outcalt).