How Conversation Works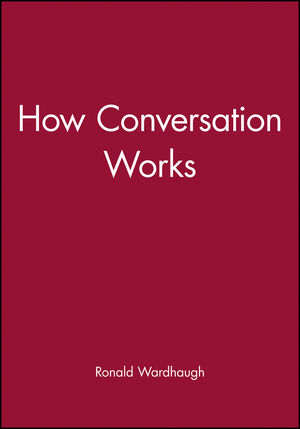 How Conversation Works
ISBN: 978-0-631-13939-3 January 1991 Wiley-Blackwell 240 Pages
Description
Conversation is very often spontaneous, natural and informal. But even at its most casual it is governed by rules and principles of language and behaviour. This book lays bare the structure of conversation, describing what happens when people talk to each other and explaining why they say what they say in a wide variety of circumstances.
Ronald Wardhaugh explores many aspects of conversation, asking how conversations start, how we decide who will speak next, how we change the subject, and how we know when a conversation has finished.
How Conversation Works is the most accessible guide to discourse analysis and pragmatics yet written and will be read with profit and enjoyment by students and general readers alike.
Table of contents
Preface.
1. The Social Basis of Talk.
2. Locating an Agenda.
3. Cooperation and Playing the Game.
4. Beyond and Behind the Words.
5. The Importance of Context.
6. Getting Started and Keeping Going.
7. Topics, Turns, and Terminations.
8. Requesting, Informing, Advising, Agreeing, Apologizing, Promising.
9. Samples of Conversation.
10. Consquences.
Bibliography.
Index.
Features


examines the structure of conversation, describing what happens when people talk to each other and explaining why they say what they say in a wide variety of circumstances.


explores many aspects of conversation, asking how conversations start, how we decide who will speak next, how we change the subject, and how we know when a conversation has finished


contains list of suggested further reading