How Did I Get Here?: The Ascent of an Unlikely CEO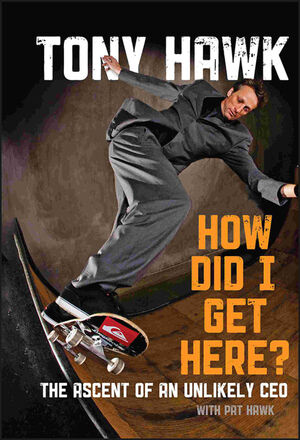 How Did I Get Here?: The Ascent of an Unlikely CEO
ISBN: 978-0-470-63149-2 October 2010 208 Pages
Description
The most famous skateboarder ever shares the business secrets to his success!
He's the man who put skateboarding on the map. He's the first to land a 900 (two and a half full rotations). He's also among the richest pitchmen in any sport. And, in a sport that's especially youth-oriented, Tony Hawk, a 40-something father of four, still connects with his audience by staying true to who he is.
Moving easily between the ramp and the boardroom, Tony currently runs one of the most acclaimed action sports companies, a clothing line, and video game series bearing his name that has sold over $1 billion worldwide, making it the biggest selling action sports game franchise in game history. He has secured endorsement deals with major brands such as McDonalds, Intel, T-Mobile and Kohl's; started the Boom Boom HuckJam action sports tour; and achieved worldwide acclaim from the ESPN X Games.
Filled with Tony's typical modesty and humor, How Did I Get Here? tells the amazing story behind Tony Hawk's unprecedented success from skateboarder to CEO, and the secrets behind his lasting appeal. You'll find out how authenticity has served him well in all his achievements. You'll also understand how his story has shaped many of his fundamental values, including his huge desire to win and his strong sense of realism.
Get the inside story of Tony Hawk beyond the skateboard as he answers the question: How Did I Get Here?
Preface.
Credits.
Chapter 1 Toucan Sam Teaches Me a Lesson.
The day I knew it was time to take control.
Chapter 2 Building a Better Birdhouse.
The birth and near-death of our first business.
Chapter 3 Hey Kid, Want to Buy a Hoodie?
Risking our homes to make T-shirts and hats.
Chapter 4 "Is Tony Hawk a Real Person?"
From motion capture to gaming franchise.
Chapter 5 What the Hell Is a HuckJam?
Innovation and improvisation on a million-dollar ramp.
Chapter 6 "Extreme" Is a Four-Letter Word.
"This is how we do it in our world".
Chapter 7 The Denim Debacle.
Some business ideas that didn't quite fly.
Chapter 8 Final Cut.
The key to image control: get your own editing bay.
Chapter 9 Hashtag Is Not a Death-Metal Band.
Reaching out through tweets, apps, and satrad.
Chapter 10 How to Never Get a Movie Made.
Hollywood will break your heart, or at least piss you off.
Chapter 11 Stinky Diapers in First Class.
How to balance travel and family: bring 'em.
Chapter 12 Giving Back.
Family, friends, Regis, and a very smart fifth-grader help me build a charity.
Acknowledgments.
Index.