How Fashion Works: Couture, Ready-to-Wear and Mass Production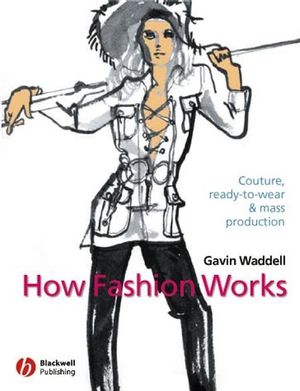 How Fashion Works: Couture, Ready-to-Wear and Mass Production
ISBN: 978-0-632-05752-8 September 2004 224 Pages
Description
Fashion deals with a world of illusion on the one hand and a hard-bitten, multifaceted and multi-billion pound industry on the other. This stimulating book clarifies how fashion operates on all its levels: the mystery of haute couture is explained, the complexities of ready to wear are simplified, and the power of mass production assessed and evaluated. Fashion terms, their use and meaning are explained in plain words and the complicated stages of design, manufacture and distribution are described in detail. Also included are sections on bespoke tailoring, wholesale menswear, dressmaking, millinery and accessories, the fashion calendar and short biographies on the most influential designers.


Every follower of fashion, whether at college or in big business, will welcome the information presented in this book.
Introduction.
Couture.
Ready-to-wear.
Mass production.
Tailoring.
Menswear.
Dressmaking.
Millinery and accessories.
The designers.
Distribution.
Fashion organisation and calendar.
Considerations for the future.
Appendices.
Glossary.
Bibliography.
Useful addresses and websites
It is thoroughly researched, attractively presented and appealing in its unpretenious style. It is accessible, pertinent to different levels of expertise, and provides a distinctive insight to the fashion industry. Journal of Fashion Marketing and Management, vol 10, no 1; 2006
* The fashion business is complex and difficult to understand. Students of fashion frequently misunderstand the structure of the industry and how the whole fashion system operates
* No comparable book exists. This should become the established textbook on the subject

* Covers vital aspects of fashion not covered by any existing publications

* The author has worked as a designer for several of London's top couturiers, as a ready-to-wear designer with his own label, and as a fashion forecaster and commentator. He was also head of three leading fashion schools and speaks with authority on the subject