How Foundations Work: What Grantseekers Need to Know About the Many Faces of Foundations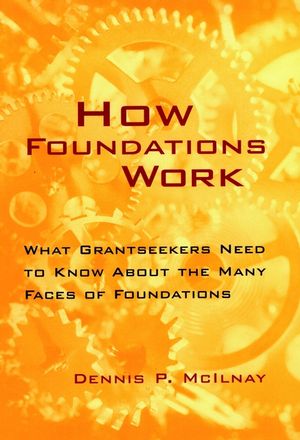 How Foundations Work: What Grantseekers Need to Know About the Many Faces of Foundations
ISBN: 978-0-787-94011-9
Apr 1998, Jossey-Bass
240 pages
Description
In this groundbreaking book, Dennis McIlnay offers a unique and remarkable look inside foundations--exploring the complex workings of the mysterious and often misunderstood organizations that so often determine the success or failure of a nonprofit's fund raising ventures.

Drawing on his extensive research and on insights from foundations, McIlnay gives the grantseeker an edge in the highly competitive world of foundation grants by both debunking many of the myths and misconseptions surrounding foundations and including more productive strategies for dealing with them.

Structured around six perceptions of foundations--judges, editors, citizens, activists, entrepreneurs, and partners--this book provides a thorough understanding of what makes foundations tick and how this affects their interations with nonprofits.
Preface and Acknowledgements.

The Author.

Foundations at the Crossroads.

Foundations as Judges -
The Art of Deciding Who Gets a Grant.

Foundations as Editors -
How the Quality of Writing Affects Grant Proposals.

Foundations as Citizens -
How Accessible and Accountable are Foundations?

Foundations as Acitvists -
How Political Ideology and Influence Affect Grant Decisions.

Foundations as Entrepreneurs -
How Program Officers View Risk Taking.

Foundations as Partners -
Problems in Building Trust Between Grantmakers and Grantseekers.

Conclusion -
Faces of Foundations in the Future.
"How Foundations Work will provide much-needed dialogue in the foundation community. Anyone who has ever raised funds from foundations can easily relate to Mr. McIlnay's observations. This book gives an insider's perspective to foundations that we have heard about before but rarely seen in print until today." (K. Scott Sheldon, CFRE, director of development and outreach, Arizona State University College of ExtAnded Education)

"McIlnay's book is full of information. His arguments are cogent and well-supported. Common misunderstandings and unspoken truths about foundations are revealed in ways that nonprofit leaders will respond to with warmth. The list of cockamamie ideas submitted as grant proposals brought tears of laughter to my eyes and the description of medieval grant proposals is priceless. It is funny, well-observed and a good read." (David La Piana, principal, La Piana Associates Management Consultants)

"After a dozen years in the field, I was pleased to read this book which helps to demystify philanthropy" (Ruth Shack, president, Dade Commununity Foundation)