How Much Is Enough? Balancing Today's Needs with Tomorrow's Retirement Goals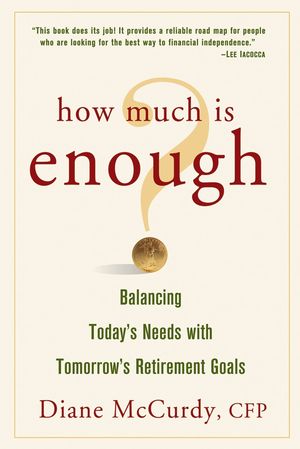 How Much Is Enough? Balancing Today's Needs with Tomorrow's Retirement Goals
ISBN: 978-0-471-74605-8
Feb 2006
240 pages
Description
Questions concerning retirement savings abound, but the one question on everyone's mind is, ""How much is enough to provide for the type of retirement I want?"" How Much Is Enough? provides the answer by helping readers build a customized plan. Author and financial planning expert Diane McCurdy clearly explains how to save on taxes and invest wisely, so that readers can find the money they need to reach their retirement goals. Readers will also learn how to comfortably work with financial advisors and manage the investments needed for retirement. Filled with in-depth insight and practical advice, How Much Is Enough? is a refreshing approach to defining retirement goals and building a personalized plan to reach them.
Preface.
Acknowledgments.
Introduction.
PART ONE: WHAT IS ENOUGH?
Chapter 1: Your Money and Your Life.
Chapter 2: Where It Goes.
Chapter 3: What You Want.
Chapter 4: What's Enough for You—The Magic Number.
PART TWO: GETTING ENOUGH.
Chapter 5: Getting on Track.
Chapter 6: Finding Financial Advice.
Chapter 7: How to Make Your Money Grow.
Chapter 8: Retirement Plans.
Chapter 9: Ages and Stages.
Chapter 10: The Entrepreneurial Option.
Chapter 11: I've Got Enough—Now What?
Chapter 12: Estate Planning.
Chapter 13: Twenty Thoughts to Help You Stay on Track.
Appendix A: Registered Plans (Canada).
Appendix B: I've Got Enough—Now What? (Canada).
Appendix C: Estate Planning (Canada).
Notes.
Financial Planning Professional Designations.
About the Author.
Index.