How To Lead A Quest: A Guidebook for Pioneering Leaders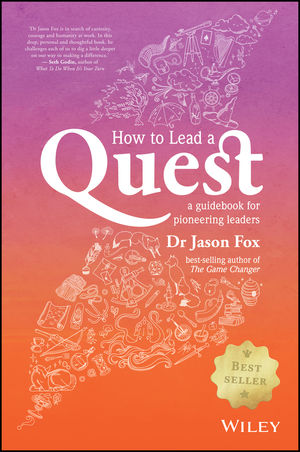 How To Lead A Quest: A Guidebook for Pioneering Leaders
ISBN: 978-0-730-32472-0 December 2015 304 Pages
Download Product Flyer
Download Product Flyer
Download Product Flyer is to download PDF in new tab. This is a dummy description. Download Product Flyer is to download PDF in new tab. This is a dummy description. Download Product Flyer is to download PDF in new tab. This is a dummy description. Download Product Flyer is to download PDF in new tab. This is a dummy description.
Description
Unlock progress through doubt and uncertainty
The biggest threat facing modern business is the sheer complexity of an uncertain future. That, and the fact that everyone is busy. Too busy for progress.
Workplace cultures have become cursed with efficiency. And so when it comes to developing strategy, we default to our defaults.We favour quick fixes, easy templates and familiar approaches, developing 'robust plans' that do little to mitigate strategic risk or generate new value. The result? The future comes, and businesses die.
But no longer! *cue trumpets* How to Lead a Quest is a book for pioneering leaders - folks who know that enterprise strategy is far too important to condemn to 'smart goals', 'a clear vision for the future' and other such rubbish. Within this book, you'll discover how to:
liberate enterprise leadership and workplace cultures from the curse of efficiency, default thinking and the delusion of progress
explore complex and uncertain futures to find profound insights that mitigate strategic risks and ensure your business model remains viable
create new value and enduring relevance by pioneering into unchartered and unprecedented territory
embed new structures and rituals into your enterprise to build for the future, while still delivering operational excellence today.
Not for the faint of heart or short-of-wit, this uniquely refreshing book bravely tackles the paradox that is pioneering leadership. You'll discover how to lead meaningful progress - even if you don't know what the goal or destination looks like.
Table of contents
About the Author ix
Gratitudes xi
Introduction xv
Part I Default Thinking and the Kraken of Doom
Why lead a quest?
1. The Anatomy of Default Thinking 3
Cognitive shortcuts & the virtues of laziness
2. The Curse of Efficiency 15
A Delusion of Progress & the bane of strategy
3. A Rainbow of Growth and Despair 23
A default growth arc & the Inevitable Kraken of Doom
Summary 35
Part II A Quest Beckons
What makes up a quest?
4. An Alternative Option 41
A call to adventure & the hidden benefits of doubt
5. Quest-Augmented Strategy 59
A framework for meaningful progress & enduring relevance
6. Here be Dragons 69
Dissociated metacognition & the siren call of self-sabotage
Summary 79
Part III Cultivating Options
How do we find alternative pathways?
7. An Intuitive Reckoning 85
A nagging hunch & the hint of strategic advantage
8. Intriguing Incoherence 93
Pioneering through uncertainty, complexity & paradox
9. Pathways of Possibility 113
A quiver of options & the anticipation of chooks
Summary 119
Part IV Crafting Experiments
How do we validate alternative pathways?
10. It's Not About Ideas 125
The many virtues of a science-based approach
11. Planning to Fail 141
Navigating the nine layers of Fell
12. Viable Alternative Options 155
Packaged intelligence & a path to follow
Summary 163
Part V Augmenting Strategy
How do we lead better strategy?
13. Back to the Future 169
Getting strategic about strategy
14. Choosing to Choose 177
Mapping options & dodging cognitive bias
15. Strategy for Breakfast 191
The networked enterprise & a responsive hydra
Summary 201
Part VI Making Progress
How do we create meaningful progress?
16. Bimodal Beginnings 207
Planting seeds & growing new ways of working
17. Meaningful Progress 215
Finding progress amongst a sea of vagueness
18. Mission Impossible 219
Projects with imperative & a few caveats
Summary 223
Part VII Pioneering Culture
How do we embed pioneering leadership into work culture?
19. Lost in Translation 229
Finding the behaviours that make strategy happen
20. Structures, Artefacts and Rituals 237
Getting deliberate about the vibe
21. Contextual Momentum 245
A map of rituals to get you moving
Summary 267
Conclusion 269
Index 273