How To Make Money as a Mediator (And Create Value for Everyone): 30 Top Mediators Share Secrets to Building a Successful Practice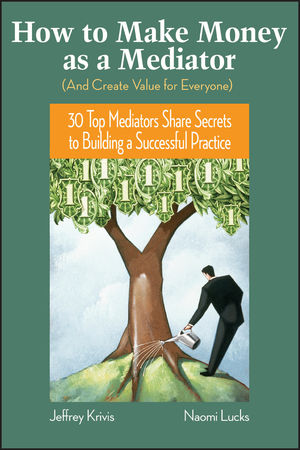 How To Make Money as a Mediator (And Create Value for Everyone): 30 Top Mediators Share Secrets to Building a Successful Practice
ISBN: 978-1-118-04699-9
Jan 2011, Jossey-Bass
256 pages
Description
How to Make Money as a Mediator (and Create Value for Everyone) is an invaluable and inspirational resource filled with practical, proven, and down-to-earth information on how you can develop a satisfying and lucrative career as a mediator, no matter what your area of interest—labor and employment mediation, intellectual property, environment, personal injury, family and divorce, contract, securities, or international peacekeeping.
Acknowledgments.
Introduction: How I Found My Dharma in Mediation.
1. Extreme Mediation: What Top-Tier Mediators Know That You Can Learn.
2. Be Yourself: Inspiring Trust, Projecting Authenticity, Honing Your Skills.
3. Invisible Marketing: The Essence of Networking.
4. Visible Marketing: Getting Out There.
5. Practical Considerations: The Business of Mediation.
6. How Much Money Can You Earn? Value, Investment, and Cold, Hard Cash.
7. Staying Alive: Weathering the Ups and Downs of a Mediation Practice.
8. Looking Ahead: The Future of Mediation and Your Future in Mediation.
The Mediator's Field Guide to a Successful Practice.
About the Authors.
About the Contributors.
Index.
"When parties are truly committed to settling a large case, they are willing to pay what it takes to get the done . . . " (Dispute Resolution Journal, Sept 2007)