How To Reach & Teach Teenagers with ADHD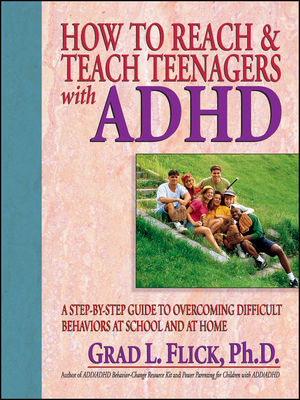 How To Reach & Teach Teenagers with ADHD
ISBN: 978-0-130-32021-6 August 2000 Jossey-Bass 428 Pages
Description
This comprehensive resource is pack with tested, up-to-date information and techniques to help teachers, counselors and parents understand and manage adolescents with attention deficit disorder, including step-by-step procedures for behavioral intervention at school and home and reproducible handouts, checklists and record-keeping forms. The ten chapters include Medical/Clinical Interventions, Family Issues for ADHD Teens, Educational Issues, Network of Support, and more. How to Reach and Teach Teenagers with ADHD is one of the most practical and complete resources available for understanding the nature and treatment of attention deficit disorder and helping Adolescents with ADHD control difficult behaviors and overcome related social and academic problems.
About This Book.

CHAPTER 1: What Is ADD/ADHD?

CHAPTER 2: Assessment Of ADHD.

CHAPTER 3: Medical And Clinical Interventions For Adolescent ADHD.

CHAPTER 4: Family Issues For Teens With ADHD.

CHAPTER 5: Educational Issues For ADHD Teens.

CHAPTER 6: Behavior Management For ADHD Teens At Home And In School.

CHAPTER 7: Social Problems Of Teens With ADHD.

CHAPTER 8: Preparing For Adulthood With ADHD.

CHAPTER 9: Network Of Support.

CHAPTER 10: Resources For Teens With ADHD.

Appendices.

Resources.

References.

Index.