How To Sell When Nobody's Buying: (And How to Sell Even More When They Are)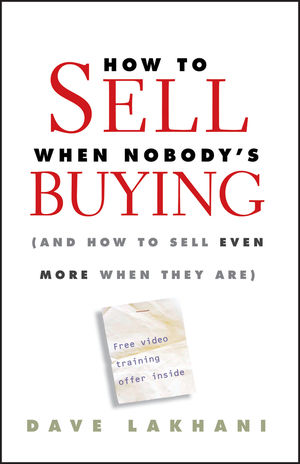 How To Sell When Nobody's Buying: (And How to Sell Even More When They Are)
ISBN: 978-0-470-52359-9
Jun 2009
256 pages
Description
The most effective sales strategies for tough economic times
Today's selling environment is tough, and only getting tougher. The old tactics are no longer working, and the current economy is only making selling more difficult. You need sales tactics and strategies that work now and fast . . . even when no one wants to buy-and tactics and strategies that will work even better when they do want to buy.
How to Sell When Nobody's Buying is a practical, effective guide to selling even in the toughest of times. This book is packed with new information about creating sales opportunities. Most sales strategies taught today are based on outdated information from ten, twenty, even thirty years ago and they simply don't work today. You'll find the tools and information you need to gain confidence, create powerful alliances, profitable social networks, and drive your profits to unprecedented highs. Whether you sell business-to-business or direct to the consumer, whether you sell real estate or retail, this is the sales guide for you.
Features effective, simple strategies for selling in tough economic times
Offers free or low-cost prospecting tools that bring in customers by the herd
Includes case studies from top salespeople that reveal new ways to bring in customers
From sales guru Dave Lakhani, author of Persuasion, Subliminal Persuasion, and The Power of an Hour
These days, you need all the help you can get to sell effectively. If you want to increase your sales and drive your business forward-no matter what the economy or your industry does-learn How to Sell When Nobody's Buying.
Acknowledgments.
Preface.
Chapter 0 Quick Start: How to Sell More Right Now.
Chapter 1 Get Real and Get Focused.
SLUMP BUSTER: AN INTERVIEW WITH SCOTT MARKER.
Chapter 2 Get Visible: You Have to Be Seen to Sell.
Chapter 3 Get Connected: How to Find Buyers Who Are Ready to Buy Now.
Chapter 4 Get Digital and Get Off the Road: Sell to Buyers at Their Desks from Yours.
Chapter 5 Get Creative: Open New Doors in New Ways.
SLUMP BUSTER: AN INTERVIEW WITH TODD CARLSON.
Chapter 6 Get Persuasive: Understand Buyer Psychology to Sell More Now.
Chapter 7 Get Paid: Getting More Out of Every Sale.
Chapter 8 Get Leverage: The Art of Mass Infl uence.
Chapter 9 Get Them Selling: In Economic Slumps, Good Sales Managers Earn Their Pay.
SLUMP BUSTER: FOR SALES MANAGERS AND CEOS: AN INTERVIEW WITH DWAYNE SPEAGLE.
Chapter 10 Final Thoughts.
Afterword: An Interview with Matt Hoover, Winner of NBC's The Biggest Loser and Olympic Hopeful.
Contributing Author Essays.
How to Sell More Using Social Media (Dr. Rachna Jain).
Disruptive Excellence (Ray Cronise).
How to Effectively Use Facebook to Find Your Ideal Work, Build Your Brand, and Increase Your Sales (Mari Smith).
How to Sell Real Estate in a Tough Market and Grow Your Business Year after Year at the Same Time (Craig Ernst)
Bibliography.
About the Author.
Index.
Exclusive Free Video Training Offer.