How To Write in Psychology: A Student Guide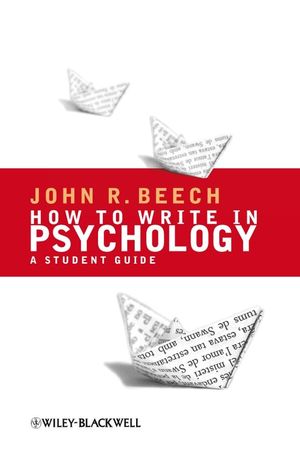 How To Write in Psychology: A Student Guide
ISBN: 978-1-405-15693-6 October 2008 Wiley-Blackwell 258 Pages
Description
Through the use of clearly defined instructions and examples,
How to Write in Psychology
is a concise and comprehensive guide for the well-prepared student on the principles of writing essays and research papers for psychology.
Presents everything the well-prepared student needs to know about the principles and practice of writing for psychology
Compares and contrasts the different writing requirements and techniques for essays and research reports in psychology
Offers advice on constructing figures and producing properly formatted graphs and tables
Includes exercises to improve grammar, style, and critical awareness
Provides checklists, tips for getting started, and examples of a properly written essay and lab report
Table of contents
List of Illustrations.
Acknowledgements.
Introduction.
1 Some Preliminaries.
2 Writing the Essay.
3 Preliminaries to Writing the Lab Report.
4 Writing the Quantitative Lab Report.
5 Writing the Qualitative Research Report.
6 Presenting Numbers, Tables and Figures.
7 Writing the Project.
8 Writing for Exams and Answering MCQs.
9 Writing for Other Purposes.
10 Attention to Detail: More on APA Formatting, Especially References.
11 Some Basics of Grammar and Common Confusions.
12 Improve Your Editing Skills.
Appendix 1: An Example Student Essay.
Appendix 2: An Example Student Quantitative Lab Report.
References.
Index
Reviews
In the average psychology degree, there's a whole lot of writing to be done, and much of it is very stylistically prescribed, and the student new to psychology has to quickly develop and use a new vocabulary and understand the demands of examinations, essays, experimental reports, and longer works such as final-year research projects. Furthermore, even research reports differ, depending on whether they are write-ups of quantitative or qualitative research, and so on.
This book is clear, well-structured, readable, enjoyable and highly informative. Given that students have a lot to learn in the course of their studies, any book that propels them forward has to be welcomed. There are hundreds of volumes on writing, a handful of which are focused on writing in psychology. This, in my opinion, is by far the best of them.

Mark Forshaw, Staffordshire University

"Written in a style that is clear, direct, and concise, How to Write in Psychology is an indispensable handbook for students - a must for anyone starting a BSc Psychology course, or preparing their final year project."

Dean D'Souza, BPS Student Rep
Features


Presents everything the well-prepared student needs to know about the principles and practice of writing for psychology

Compares and contrasts the different writing requirements and techniques for essays and research reports in psychology

Offers advice on constructing figures and producing properly formatted graphs and tables

Includes exercises to improve grammar, style, and critical awareness

Provides checklists, tips for getting started, and examples of a properly written essay and lab report