How a Second Grader Beats Wall Street: Golden Rules Any Investor Can Learn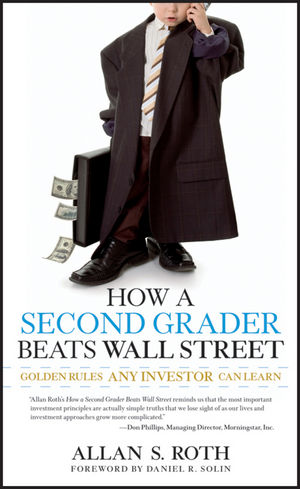 How a Second Grader Beats Wall Street: Golden Rules Any Investor Can Learn
ISBN: 978-0-470-91903-3 January 2011 304 Pages
Description
Straightforward strategies from a successful young investor
In How a Second Grader Beats Wall Street, you'll follow the story of Kevin Roth, an eight-year-old who was schooled in simple approaches to sound investing by his father, seasoned financial planner Allan Roth, and discover exactly how simple it can be to become a successful investor. Page by page, you'll learn how to create a portfolio with the widest diversification and lowest costs; one that can move up your financial freedom by a decade and dramatically increase your spending rate during retirement. And all this can be accomplished by using some common sense techniques.
Along the way, Kevin and his dad discuss fresh, new approaches to investing, and detail some tried-and-true, but lesser known approaches. They also take the time to debunk the financial myths and legends that many of us accept as true, and show you what it really takes to build long-term wealth with less risk.
Discusses how to design a portfolio composed of a few basic building blocks that can be "tweaked" to fit your personal needs
Addresses how you can reengineer your portfolio in order to stop needlessly paying taxes
Reveals how you can increase returns, regardless of which direction the market goes, by picking the "low-hanging fruit" we all have in our portfolios
With just a little time and a little work, you can become a better investor. With this book as your guide, you'll discover how a simpler approach to today's markets can put you on the path to financial independence.
Table of contents
Foreword.
Acknowledgments.
Introduction: The Seeds of Financial Success.
Chapter 1 The Claw Will Take Your Money: "10 – 2 = 8".
Chapter 2 Own the World: "Don't Put All of Your Eggs in One Basket".
Chapter 3 The Advantage of Having Wall Street Marketing Blinders (and Where Can I Get Some?): "I Don't Watch Cramer; I Like SpongeBob".
Chapter 4 Adults Behaving Badly: "Don't Act Silly When Something Is Important".
Chapter 5 Can You Beat a Second Grader's Portfolio?: "I'm Not Going to Win All Three Spins".
Chapter 6 Beyond the Second-Grader Portfolio: "If Dad Says There's a Better Way, I Might Try It, but I'm Not So Sure".
Chapter 7 Bonds—Your Portfolio's Shock Absorber: "Don't Lend Money to Someone Who Won't Pay You Back".
Chapter 8 Better Than Bonds: "If the Teacher Promises You'll Be Paid Back, Then It's Okay to Lend Randy Money".
Chapter 9 Simply Brilliant or Brilliantly Simple—Building Your Portfolio: "Don't Bet Your Lunch Money".
Chapter 10 Investors Who Love to Pay Taxes, and the IRS Who Loves Them: "Don't Pay Taxes If You Don't Have To".
Chapter 11 Nightmare off Wall Street—The Scary Tale of Trick-or-Treat Investing: "If the Game Is Too Hard to Understand, I'm Not Playing".
Chapter 12 Increase Your Return No Matter What the Market Does: "If You Pick the Low-Hanging Fruit, You Don't Have to Climb the Tree".
Chapter 13 Keep It Simple, Stupid (KISS): "Why Do Grownups Have to Make Things So Complicated?"
Kevin's Postscript.
Notes.
About the Author.
Index.