How to Be an Effective Trainer: Skills for Managers and New Trainers, 3rd Edition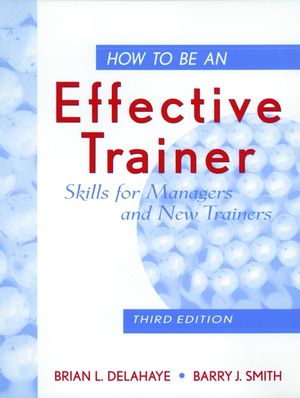 How to Be an Effective Trainer: Skills for Managers and New Trainers, 3rd Edition
ISBN: 978-0-471-18375-4 February 1998 448 Pages
Description
Written specifically for managers, supervisors and trainers who need to communicate new knowledge and skills to people, How to be an Effective Trainer provides a solid framework for maximising your training proficiency. Skills such as formulating session plans, computer based learning and behaviour modeling are all covered as well as advanced learning techniques.
Table of contents
TRAINING OVERVIEW.
The Training Environment and the Trainer's Job.
Some Learning Principles.
The Theory-Session Model.
The Skill-Session Model.
The Trainees.
PLANNING THE LEARNING EXPERIENCE.
What is Training Needs Analysis?
Writing Training Objectives and Competencies.
Creating the Session Plan.
Defining Measurement Criteria and Tools.
Getting Training to Work.
TRAINING TECHNIQUES.
Questions.
How to Train on the Job.
How to Prepare and Lead a Discussion.
How to Prepare and Give a Lecture.
ADVANCED TECHNIQUES.
The Case Study and the Role-Play.
Computer-Based Learning.
Advanced Learning Based on Work Experience.
Other Advanced Techniques.
Supervisory and Management Development.
TRAINING AIDS.
Using Boards and Charts.
Overhead Projection Technologies.
Audio-Visual Tips.
MANAGING THE LEARNING EXPERIENCE.
Designing a Program.
Marketing of Training.
The Training Room.
Coordinating a Program.
Evaluating a Program.
Career Development Review.
Selected Readings.
Index.