How to Buy a Great Business With No Cash Down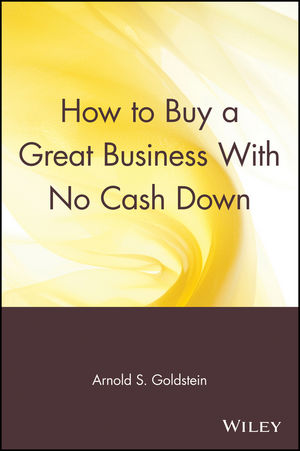 How to Buy a Great Business With No Cash Down
ISBN: 978-0-471-54775-4 August 1991 304 Pages
Description
A complete how-to guide to a 100% financed business. How to Buy aGreat Business with no Cash Down Bestselling author Dr. ArnoldGoldstein has successfully purchased 12 companies--including retailstores to printing plants--and he did it without investing anymoney of his own! Using his proven formula for success, he also hasguided hundreds of other enterprising but financially limitedpeople into their own 100% leveraged businesses. Now, the master ofthe "No Cash Down" takeover is ready to help you too. In thisimportant new book, he reveals all his secrets, including how tosuccessfully find, qualify, evaluate, structure, finance,negotiate, and take over any type or size business.using little orno cash of your own. In How to Buy a Great Business With No CashDown, you'll
* Get over 50 proven "no cash down" techniques, strategies, andformulas that insure success through each phase of the buy-sellprocess
* Discover how to prospect the very best no-cash deals
* Learn how to avoid costly errors and common pitfalls
* Find out how to calculate what a business is worth
* Get all the same handy checklists, forms, and sample agreementsthe author uses
* Learn how to attract the right investment partners
* Discover how to negotiate a winning deal.each and everytime!
* Find out how to quickly sell the business for an unbelievableprofit
Table of contents
Who Needs Cash?.

Building Your Financial Pyramid.

Prospecting for No Cash Down Deals.

Beware of Booby Traps.

What Is the Business Worth?.

Going Where the Money Is.

Partners for Profit: Your Brains, Their Cash.

How to Turn a Seller's Nightmare Into a Dream Business.

Supplier Financing: Yours for the Asking.

A Little Cash Flow Can Go a Long Way.

Twelve More No Cash Down Techniques.

Negotiating to Win.

Closing Your No Cash Down Deal.

Pyramid Your No Cash Down Deal.

Sell for No Cash Down.

Index.