How to Castrate a Bull: Unexpected Lessons on Risk, Growth, and Success in Business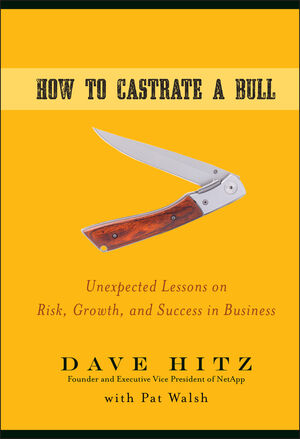 How to Castrate a Bull: Unexpected Lessons on Risk, Growth, and Success in Business
ISBN: 978-0-470-44267-8
Dec 2008, Jossey-Bass
208 pages
Description
Dave Hitz likes to solve fun problems. He didn't set out to be a Silicon Valley icon, a business visionary, or even a billionaire. But he became all three. It turns out that business is a mosaic of interesting puzzles like managing risk, developing and reversing strategies, and looking into the future by deconstructing the past.

As a founder of NetApp, a data storage firm that began as an idea scribbled on a placemat and now takes in $4 billion a year, Hitz has seen his company go through every major cycle in business—from the Jack-of-All-Trades mentality of a start-up, through the tumultuous period of the IPO and the dot-com bust, and finally to a mature enterprise company. NetApp is one of the fastest-growing computer companies ever, and for six years in a row it has been on Fortune magazine's list of Best Companies to Work For. Not bad for a high school dropout who began his business career selling his blood for money and typing the names of diseases onto index cards.

With colorful examples and anecdotes, How to Castrate a Bull is a story for everyone interested in understanding business, the reasons why companies succeed and fail, and how powerful lessons often come from strange and unexpected places.

Dave Hitz co-founded NetApp in 1992 with James Lau and Michael Malcolm. He served as a programmer, marketing evangelist, technical architect, and vice president of engineering. Presently, he is responsible for future strategy and direction for the company. Before his career in Silicon Valley, Dave worked as a cowboy, where he got valuable management experience by herding, branding, and castrating cattle.
PART ONE: Beginnings.
1. Before NetApp On Computers, Colleges, Castration, and Risk.
Interlude: What NetApp Does.
2. Starting NetApp On Toasters, Angels, Resellers, and Ferraris.
Interlude: Redundant Array of Pyramid Hieroglyphics (RAPH).
3. CEO Lessons On Pixie Dust, Decision Making, Candor, and Going Public.
Interlude: Tom Mendoza's Lessons on Public Speaking.
PART TWO: Turbulent Adolescence.
4. Hypergrowth On Goals, Doubling, Ancestors, and Pain.
Interlude: How to Fail in Executive Staff Presentations.
5. Values and Culture On Dilbert, Drooling, Lies, and Game Theory.
Interlude: Lawyers Aren't Evil Fairness and Morality Are Not Their Job.
6. Managing Engineers On Development, Consensus, Doctor Death, and Magic.
Interlude: Scientific-Truth and Useful-Truth.
PART THREE: Grown-Up Company.
7. Customers On Love, Enterprise, Simplicity, and Partners.
Interlude: Shark Island A Parable of Risk and Mass Media.
8. Strategic Change On Reversing Course, Chocolate, Debates, and Core Beliefs.
Interlude: Speckled-Egg Thinking.
9. Vision On Whining, Eras, Future History, and the Meaning of Life.
Appendix A. Early NetApp Business Plan.
Appendix B. NetApp Company Values.
Glossary.
Bibliography.
Acknowledgments.
The Author.
Index.
NetApp Awarded #1 Best Company to Work For 2009 by
Fortune
A San Francisco Chronicle Nonfiction Best-Seller, January 30, 2009
"Readers will gain insight into management styles, different ways to make decisions, alternative approaches to managing people, and the value of dissent within a company. They also will learn why it is better to castrate a bull with a dull knife than a sharp knife. And they may get a few chuckles along the way."—ByteandSwitch.com, January 27, 2009
"Hitz spends much of the book discussing what happened after he moved to move Silicon Valley in 1986 and began working at a series of start-ups, and the various business problems he faced and how he approached them. Hitz describes in detail the evolution of NetApp and, of course, does not omit the vendor's sales pitch. But at various points in the 200-page book Hitz takes a break from talking business to focus on some of the humorous passages referenced in Chapter Zero."  —NetworkWorld.com, January 21, 2009