How to Cook Everything: Simple Recipes for Great Food, Special Edition with CD-ROM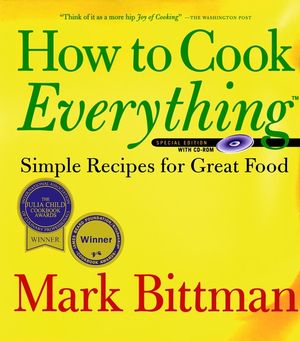 How to Cook Everything: Simple Recipes for Great Food, Special Edition with CD-ROM
ISBN: 978-0-764-56258-7
Nov 2000
960 pages
Product not available for purchase
Description
This exceptional package of Mark Bittman's award-winning, blockbuster cookbook, How To Cook Everything, plus an interactive CD-ROM of the same name, takes cooking to a whole new level! It is a must-have resource for anyone who wants guidance from the best home cook in America, plus the ability to adapt Bittman's expertise to the cooking needs of their daily lives with the tools offered by a CD-ROM.
Acknowledgments. Introduction. Equipment. Techniques. Appetizers. Soups. Salads. Pasta. Grains. Breads. Pizza, Bruschetta, Sandwiches, Pitas, and Burritos. Fish. Poultry. Meat. Beans. Vegetables. Fruits. Desserts.
Cookies, Brownies, and Cakes. Eggs, Breakfast, and Brunch Dishes. Sauces, Salsas, and Spice Mixtures. Beverages. Menus. Quick Recipes Glossary. Fifty Cookbooks I'd Rather Not Live Without. Mail-Order Sources. List of Illustrations. Index.
Chapter
Page
Details
Date
Print Run
CD
Trouble using the CD with Windows XP,

If you are using Windows XP, you may receive a memory error stating, "This program requires at least 3MB of free virtual memory to run." To correct this problem, please follow the steps below.

Click on the Start Menu and go to All Programs. When the program list is displayed, highlight How to Cook Everything.


The How to Cook Everything menu expands. Highlight the How to Cook Everything option from the expanded menu and right-mouse click the mouse.


Choose Properties from the pop-up menu.


A dialog box is displayed. Click on the Compatibility Tab at the top of the dialog box.


In the Compatibility mode box, check the box that says, "Run this program in compatibility mode for," then select Windows 98/Windows ME from the drop-down list.


Click OK to close the dialog box, then click the Start Menu and run the program from the How to Cook Everything menu.

1/1/03