How to Design and Deliver Training for the New and Emerging Generations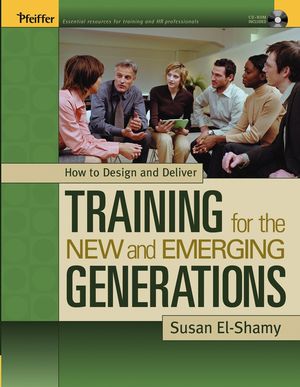 How to Design and Deliver Training for the New and Emerging Generations
ISBN: 978-0-787-97709-2 May 2004 Pfeiffer 208 Pages
Description
This much-needed resource helps trainers cut through the jungles of their own generational learning habits and clear a path to the emerging generations of learners. How to Design and Deliver Training for the New and Emerging Generation gives "old-school" trainers the tools they need to change their training style¾from linear to random access, trainer-centered to learner-centered, text-oriented to graphics-oriented, and so forth¾and accomplish this transition with ease. Author Susan El-Shamy, an international training expert, shows you how to create training sessions that will pick up the pace, increase interaction, link to the learner, offer options, and make learning fun. How to Design and Deliver Training for the New and Emerging Generations is an innovative resource that

· Translates generational differences into strategies, techniques, and tips for designing and delivering training

· Describes five key needs of learners from the emerging generations

· Shows how to design and deliver training that meets the needs of younger learners

· Presents hundreds of engaging tips, tricks, and simple techniques

· Contains quotes and comments from the "Nintendo" generation of learners

· Presents user-friendly call-outs, checklists, and quick tips

· Offers twenty invovative games on a variety of topics designed to engage learners of all ages
CD Contents.
Introduction.
Part ONE: The Different Needs of Younger Learners.
Chapter One: The Boomers and the Generations That Follow.
Chapter Two: Training the Different Generations.
Chapter Three: Pick Up the Pace to Hold Attention.
Chapter Four: Increase Interaction to Engage Learners.
Chapter Five: Link to the Learner to Make It Meaningful.
Chapter Six: Offer Options for Nonlinear Learning.
Chapter Seven: Make It Fun to Keep Them Learning.
Chapter Eight: Rattle Your Training Paradigms.
Part TWO: Games.
Game 1: Sculpt Away.
Game 2: Word Search Mania.
Game 3: One Hundred Ways.
Game 4: A Matter of Definition.
Game 5: A Change of View.
Game 6: Royal Flush.
Game 7: Hunt for Examples.
Game 8: Two-Card Audit.
Game 9: Walk the Talk.
Game 10: Find the Top Ten.
Game 11: The Whole Is Greater.
Game 12: A Stick by Any Other Name.
Game 13: Online Treasure Hunt.
Game 14: Generational Bingo.
Game 15: Q&A Black Jack.
Game 16: Approach and Coach.
Game 17: Ready, Set, Goal.
Game 18: Involve to Solve.
Game 19: Across the Board.
Game 20: Jelly Bean Art.
References.
Appendix: Survey Results.
About the Author.
How to Use the CD-ROM.