How to Display Data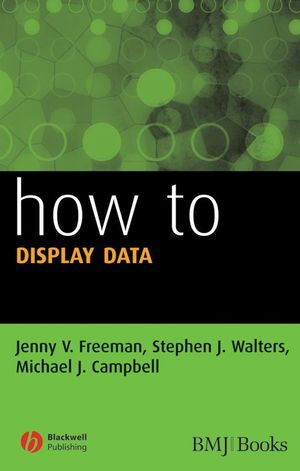 How to Display Data
ISBN: 978-1-405-13974-8 February 2008 BMJ Books 120 Pages
Description
Effective data presentation is an essential skill for anybody wishing to display or publish research results, but when done badly, it can convey a misleading or confusing message. This new addition to the popular "How to" series explains how to present data in journal articles, grant applications or research presentations clearly, accurately and logically, increasing the chances of successful publication.
Table of contents
Preface.
1 Introduction to data display.
2 How to display data badly.
3 Displaying univariate categorical data.
4 Displaying quantitative data.
5 Displaying the relationship between two continuous variables.
6 Data in tables.
7 Reporting study results.
8 Time series plots and survival curves.
9 Displaying results in presentations.
Index.
Reviews
"This book offers most excitement and is abound with promise." (
Urology News
, May/June 2009)
"The book casts a fresh light on many issues related to effective data presentation. The questions raised and ideas offered are thought-provoking, innovative and easily implemental ... .It is a small but powerful book which I firmly believe everyone would enjoy while reading in addition to learning." (Academici, April 2009)
"This book not only provides an enjoyable read, but also it reminds readers how and how not to display data. I strongly recommend this book for both medical researchers and inter-disciplinary readers, including empirical musicology." (Academici, February 2009)
  "This text would be an excellent primer for those who have the computer background for producing graphics but who lack training in the presentation of material." (The American Statistician, February 2009)
"Effective data presentation is an essential skill … .This should be very helpful to the target audience. Good data presentation should contribute to publication and presentation." (Doody's Book Reviews)
Features
A new addition to the popular 'How To' series


Shows how to present data in journal articles, grant applications or research presentations correctly and comprehensively


Contains numerous examples of good and bad data display


Contains examples from many areas of research - including those outside of medicine