How to Do Your Research Project: A Guide for Students in Medicine and The Health Sciences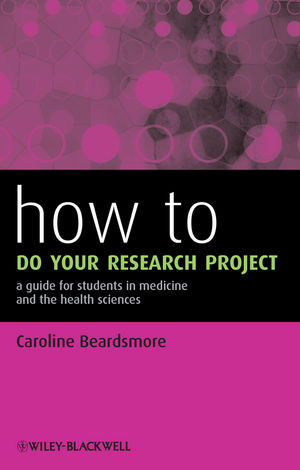 How to Do Your Research Project: A Guide for Students in Medicine and The Health Sciences
ISBN: 978-1-118-64225-2 July 2013 Wiley-Blackwell 152 Pages
Description
Getting involved in medical and biomedical research through necessity or personal choice can be a testing experience. Each step of the process brings its own challenges, from liaising with supervisors, to the lack of opportunities to promote completed research.

This brand new How to provides a complete guide to the process: from the planning stages, to execution, write-up, preparation for the viva examination, and how to maximise the impact of your research. It ensures you get the most out of the experience, both in terms of personal development and academic achievement, and even provides guidance on what to do when things don't quite go to plan.

An ideal companion, written by an experienced postgraduate tutor, this concise and user-friendly manual is full of practical exercises, key points, and hints and tips, which will give you the edge when dealing with the more elusive realities of medical and healthcare research.
Table of contents
Preface, vi
Chapter 1 Before you start, 1
Chapter 2 Getting going, 12
Chapter 3 The supervisor and other colleagues, 33
Chapter 4 Making progress, 45
Chapter 5 Writing up, 64
Chapter 6 Maximising impact, 88
Chapter 7 Preparing for your assessment, 110
Chapter 8 When things go wrong, 122
Index, 139
Reviews
"Patience, tenacity and enduring commitment are required to bring satisfactory completion of a research project and reading of this book will ease the route to success."  (British Global & Travel Health Journal, 1 January 2013)
What's New
? The only short guide available that focuses on medical research projects.
? A highly practical, 'manual 'style book that includes key points boxes, practical exercises and references.
? Provides guidance all the way through the process: starting with the very basic formative stages, and including advice on publishing and submitting to journals and conferences.
? Covers the confusing, but essential, topic of research ethics in a straightforward way.