How to Get Started in Stocks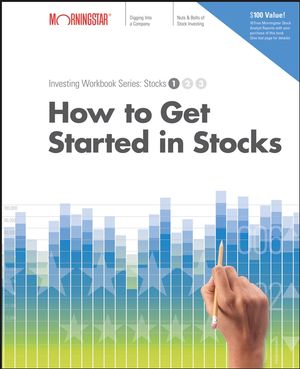 How to Get Started in Stocks
ISBN: 978-0-471-71957-1
Sep 2005
232 pages
Description
3 Easy Steps to Better Stock Investing

Lessons explain key stock investing concepts clearly and simply to help you learn quickly.

Quizzes reinforce and build on what you learn.

Worksheets let you put what you learn into practice immediately to improve your own investing.

Morningstar Investing Workbook Series helps you build skills progressively at your own pace. Look for these other titles in the Workbook Series:

Stocks 2: How to Select Winning Stocks

Stocks 3: How to Refine Your Stock Strategy

Mutual Funds 1: Find the Right Mutual Funds

Mutual Funds 2: Diversify Your Fund Portfolio

Mutual Funds 3: Maximize Your Fund Returns

Morningstar has been helping investors make better investing decisions for more than 20 years with independent information and analysis. Morningstar people are passionate about helping you invest successfully.

Paul Larson is the editor of the Morningstar Investing Workbook Series: Stocks. He is also one of Morningstar's Equities Strategists and editor of Morningstar StockInvestor. As editor, Larson manages the publication's two market-beating portfolios: Tortoise for conservative and Hare for aggressive investors.
Why You Should Invest in Stocks.
Lesson 101: Stocks Versus Other Investments.
Lesson 102: The Magic of Compounding.
Lesson 103: Investing for the Long Run.
Lesson 104: What Matters and What Doesnâ??t.
Digging into a Company.
Lesson 105: The Purpose of a Company.
Lesson 106: Gathering Relevant Information.
Lesson 107: Introduction to Financial Statements.
Lesson 108: Learn the Lingoâ??Basic Ratios.
Nuts and Bolts of Stock Investing.
Lesson 109: Stocks and Taxes.
Lesson 110: Using Financial Services Wisely.
Lesson 111: Understanding the News.
Lesson 112: Start Thinking Like an Analyst.
Lesson 113: Using Morningstarâ??s Ratings for Stocks.
Additional Morningstar Resources.
Recommended Readings.
Industry Web Links.
Quiz Answer Key.
Worksheet Answer Key.
Investing Terms.
Formulas Reference.