How to Have A Big Life: Sharing Simple Secrets of Success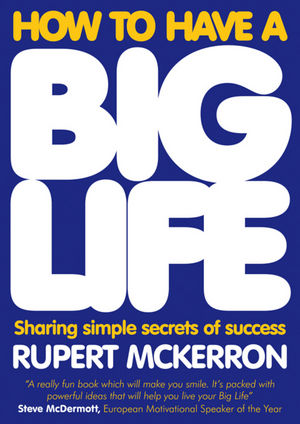 How to Have A Big Life: Sharing Simple Secrets of Success
ISBN: 978-1-906-46546-9
Nov 2008, Capstone
128 pages
Description
A successful entrepreneur and publisher reveals how anyone can finally have a big life
Founder of the McNab's Energy Tabs brand as well as his own publishing house, Pantsula Press, Rupert McKerron knows, as few do, how small dreams can morph into a big life. Not only is he a living example of the kind of success he espouses, his book How to Have a Big Life outlines the keys to that success, in a tone as frank and open as McKerron himself. Filled with clever and inspiring illustrations, as well as the hard-won wisdom and techniques that the author has used, and continues to use, to achieve success, this gem of a book will help people follow their bliss and lead the life they truly deserve.
How to have a Big Life.
How the little voices works.
How to find your prupose in life.
How to achieve goals.
Tips to reaching your goals.
Taking responsibility for your life.
The present.
Abundant thinking.
Fear of success.
Do your best.
Do what is right for you.
Intuition.
Self confidence.
Observation.
Happiness.
The essence of life.