How to Hire A-Players: Finding the Top People for Your Team- Even If You Don't Have a Recruiting Department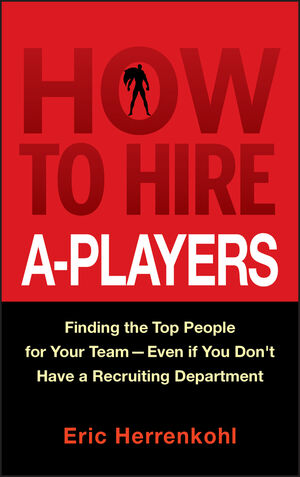 How to Hire A-Players: Finding the Top People for Your Team- Even If You Don't Have a Recruiting Department
ISBN: 978-1-119-19983-0
Oct 2015
240 pages
Description
How to find great employees, make great hires, and take your business to the next level
It is always easy to find people who want a job, but it's never easy to find and hire A-players. In How to Hire A-Players, consultant Eric Herrenkohl shows owners, executives, and managers of small and medium-size businesses where and how to find A-player employees. It is these individuals who will help keep quality high and growth and profits strong.
Herrenkohl explains how to use your existing marketing, sales, and networking efforts to find top candidates. He provides current examples of companies that consistently hire A-players without big recruiting departments as well as step-by-step explanations for making these strategies work in your own company.
Shows you how to find and hire top employees.
Ideal for owners of small businesses, executives and managers of large businesses, as well as corporate recruiters and HR specialists who need new ideas
Herrenkohl's client list includes privately held businesses in over 50 industries as well as big corporate names like Bank of America, Edward Jones, and Northwestern Mutual Life
A-player employees are the life blood of any growing business. This handy hiring guide shows you where to look, what to ask, and who to hire to boost your business today
ACKNOWLEDGEMENTS.
ABOUT THE AUTHOR.
INTRODUCTION: WHERE DO I FIND GREAT PEOPLE?
CHAPTER 1 The Value of A-Players.
CHAPTER 2 Would You Know an A-Player if You Met One? Defining Your A-Player Profile.
CHAPTER 3 Three Steps to Creating an A-Player Team.
CHAPTER 4 Right Under Your Nose: Leveraging People You Already Know.
CHAPTER 5 Don't Just Sit There. Reach Out!
CHAPTER 6 Finding New Pools of A-Player Talent.
CHAPTER 7 The Basics of On-Line Recruiting.
CHAPTER 8 Using Recruiters Wisely.
CHAPTER 9 Interviewing and the Economic Value of Good Looks.
CHAPTER 10 "Popping the Hood" on Candidates Using Assessment Tools.
CONCLUSION.