How to Invest in Condominiums: The Low-Risk Option for Long-Term Cash Flow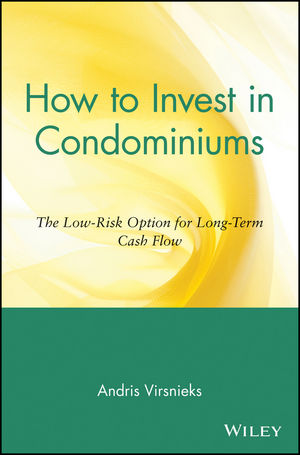 How to Invest in Condominiums: The Low-Risk Option for Long-Term Cash Flow
ISBN: 978-0-471-15150-0
Dec 2001
224 pages
Description
A simple proven method for improving cash flow so you can live rent-free and retire early

How to Invest in Condominiums provides a simple, low-risk blueprint for building cash flow by buying and renting out condominiums. You can provide for your retirement or improve your monthly income by investing in income-producing real estate at a very low risk to the capital you invest. Unlike stocks and bonds, real estate is immune to inflation and a fluctuating stock market and also provides some shelter from taxes-and the return on investment typically exceeds that of the average Wall Street investor!

The author includes a plan for getting started and a detailed record of his investments that shows how he grew a considerable cash flow-with only a small commitment of time and effort. This straightforward, realistic guide will help you:
* Use this method to establish long-term cash flow
* Avoid owning a money-losing rental unit
* Use professional property management to save time and money
* Avoid ""fixer-uppers"" v Keep your long-run effort minimal
* Live rent-free and retire early!


How to Invest in Condominiums is a reliable and realistic way to supplement your income. There are no gimmicks and no strings attached and this is not a get-rich-quick scheme. It's a long-term plan that will help you meet-and surpass-your long-term goals.
Preface.

Introduction.

Chapter 1. Not a Bear or a Bull, but Always a Cash Cow.

Chapter 2. Seven Easy Condominiums.

Chapter 3. Principles for Selecting the Right Condominiums.

Chapter 4. Why Condominium Investments Succeed.

Chapter 5. Why Condominiums and Not Apartments or Houses?

Chapter 6. Condominiums versus Stocks and Bonds.

Chapter 7. What Next and How Far Can You Go?

Chapter 8. An Act of Faith Is Still Required.

Epilogue.

Appendix A: Negative Cash Flow but Still Making Money.

Appendix B: Positive Cash Flow--Rent 10% Higher Than in Appendix A.

Appendix C: No Leverage--Same As Appendix A Except No Mortgage Payment.

Appendix D: Worst-Case Scenario without Leverage--Same as Appendix C Except No Rent.

Appendix E: Fifty Percent Increase in Rent--with Leverage.

Appendix F: Fifty Percent Increase in Rent--Same as Appendix E but without Leverage.

Appendix G: Worst-Case Scenario with Leverage--Same as Appendix A Except No Rent.

Appendix H: King County Home Sales, Seattle Post-Intelligencer, February 28, 1997.

Appendix I: Rate of Return on Investment from Rent (Net Income) and Price Appreciation.

Appendix J: Rate of Return Calculation for Condominium Number 2.

Appendix K: Rate of Return Calculation for Condominium Number 5.

Appendix L: More Recent News about Condominiums and Real Estate.

Glossary.

Endnotes.

Index.