How to Lead by The Book: Proverbs, Parables, and Principles to Tackle Your Toughest Business Challenges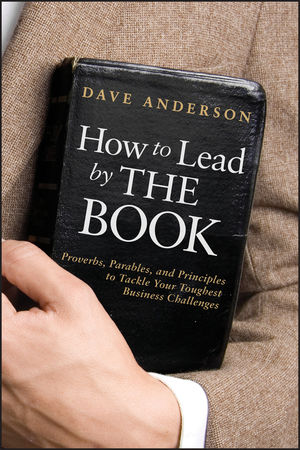 How to Lead by The Book: Proverbs, Parables, and Principles to Tackle Your Toughest Business Challenges
ISBN: 978-1-118-07518-0 May 2011 240 Pages
Description
Biblical solutions to dozens of the toughest challenges leaders face today.
Concise, to-the-point, and highly useable, How to Lead by THE BOOK presents a series of personal and business challenges recognizable to leaders, then deals with each through insight, personal experience, and a discussion of why conventional approaches often fail. Each section then concludes with winning proverbs, parables, or principles that offers applicable strategies to solve the issue.
In this practical and inspiring guide, you'll discover proven methods and advice to shape young leaders, stretch veteran leaders, become a better communicator, maintain your work-life balance, deal with dishonesty among competitors, and much more.
Shows why typical approaches to leadership problems often fail, while biblical wisdom succeeds
Covers both day-to-day dilemmas and larger questions of management, accountability, and vision
From the bestselling author of How to Run Your Business by THE BOOK, Up Your Business, and If You Don't Make Waves You'll Drown
What is the number one downfall for leaders? When is the best time to make a decision? How do you hold others accountable? How do you survive success with your principles intact? What does the Bible say about time management? Get the answers to these and many more practical business questions when you discover the winning wisdom of How to Lead by THE BOOK.
Table of contents
Preface.
Acknowledgments.
1. How Do I Hold People Accountable?
2. Is It Right to Hold Leaders More Accountable than Followers?
3. What Is the Most Effective Leadership Style?
4. How Do I Recruit Great People?
5. What Is the Best Interview Strategy?
6. What Are the Best Interview Questions To Ask?
7. What Is the Most Productive Way to Give Feedback?
8. How Do I Confront Poor Performers?
9. What Are Core Values, and How Do They Benefit My Organization?
10. How Do I Balance My Work and Home Life?
11. What Are Two of the Most Dangerous Mistakes.
I Must Avoid to Become a More Effective Leader?
12. How Can I Create More Productive Behaviors in My Organization?
13. How Do I Know God's Will as I Make Decisions in My Business and Life?
14. What Are the Two Biggest Threats to My Success?
Closing Thoughts.
References.
About the Author.
Index.