How to Make Money While you Sleep!: A 7-Step Plan for Starting Your Own Profitable Online Business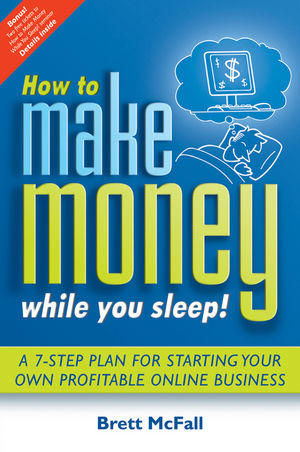 How to Make Money While you Sleep!: A 7-Step Plan for Starting Your Own Profitable Online Business
ISBN: 978-1-742-16883-8
Dec 2011, Wrightbooks
400 pages
Description
In this jargon-free guide, author Brett McFall shows just how easy it is to set up your own online business. You'll discover how to make money by delivering a great deal of value without a great deal of effort. And you don't have to have a technical bone in your body to do it!

In seven simple steps, Brett takes you through everything you need to know to create a successful online business on a shoestring.

Inside you'll learn how to:
find a niche market
create a product
write an enticing sales message
design a website
sell your product.
Packed with useful tips, tools and techniques for setting up and maintaining an online business, How to Make Money While You Sleep! is a must-read for budding entrepreneurs.
Foreword.
About the author.
Introduction.
Part I: Welcome to the New World.
1. Why the internet is the best way to make money while you sleep.
2. The keys to your internet success.
3. Why sell information?
Part II: The Seven Steps to Creating a Profitable Online Business.
4. Step 1: find a hot niche market.
5. Step 2: create a product that gives your market what it wants.
6. Step 3: create a powerful and compelling sales message.
7. Step 4: design a simple website that converts prospects into buyers.
8. Step 5: bring traffic to your website.
9. Step 6: use email to turn more people into customers.
10. Step 7: recruit an army of people to sell your product for you.
Part III: Real Proof.
11. The end of a book, the start of a new world.
Appendix: useful websites.
Index.