How to Manage a Successful Bar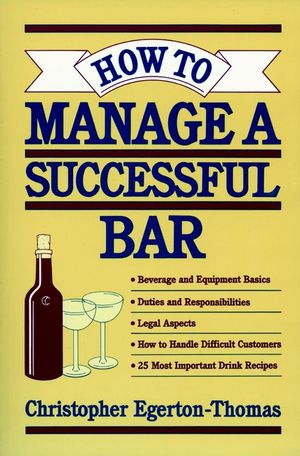 How to Manage a Successful Bar
ISBN: 978-0-471-30461-6
Mar 1994
220 pages
Description
An invaluable comprehensive guide to running a bar for maximum profit and minimum stress. Detailed coverage includes 25 of the most important drink recipes; beverage and equipment basics; how to hire, fire and motivate staff; establishing rapport with customers and handling difficult situations; dealing with mixed orders from waiters; legal aspects of safety and sanitation; guidelines for responsible alcohol service. Contains numerous authentic examples.
Standard Bar Inventory.

Wine and Champagne.

Beer, Nonalcoholic Beer, Sodas, and Bottled Waters.

Bar Supplies and Equipment.

The Bar Manager's Guide to Opening.

Who Are the Customers and What Do They Want?.

Hiring and Training Bartenders.

The Law, Crimes, and Whom You Don't Serve.

Bar Health and Hygiene.

How to Get and Keep a Job, Hire Personnel, and Increase Sales.

A Shift with the Bartender from Hell--and with One Who's Read This Book.

Glossary.

Index.