How to Manage a Successful Software Project: With Microsoft® Project 2000, 2nd Edition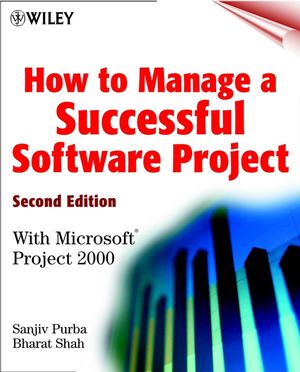 How to Manage a Successful Software Project: With Microsoft® Project 2000, 2nd Edition
ISBN: 978-0-471-39339-9
Oct 2000
496 pages
Product not available for purchase
Description
The best techniques and guidelines to deliver IT projects on schedule and within budget With all the pitfalls and cost overruns that can cause a software project to come in late and over budget, managers must know the best practices in the field and how to implement them. This comprehensive guide provides you with all the tools you'll need to deliver successful IT projects, including proven techniques, guidelines, and checklists. The hands-on tutorial will teach you how to implement these techniques using Microsoft Project 2000. Armed with this book, you'll be able to build software that meets user requirements. Inside, you'll find a survival framework that shows you how to achieve the best possible results with your project. the framework presents all the methods, tools, and approaches for you to consider when implementing projects. You will also be introduced to the Iterative Project Development Methodology (IPDM), which you can use on a broad range of projects, including n-tier architecture, legacy applications, open systems, Web-based applications, and e-business solutions.
Whether you are managing small, or large projects, this book will help you:
* Get the necessary support from senior management for a project
* Plan and schedule projects
* Learn the best way to organize staff for a project
* Discover why a project can succeed or fail
* Avoid common pitfalls by using sound project management methodologies
* Manage projects in an outsourcing environment
* Implement the best practices using Microsoft Project 2000
The companion Web site at www.wiley.com/compbooks/purba features a sample project plan, forms, and checklists.Visit our Web site at www.wiley.com/compbooks/
Visit the companion Web site at www.wiley.com/compbooks/purba
The Role of a Project Manager.

Project Management Concepts.

Project Initiation and Justification.

Project Planning and Scheduling.

Why Projects Fail.

Why Projects Succeed.

Iterative Project Development Methodology (IPDM).

Project Resourcing: Roles, Responsibilities, and Monitoring.

Outsourcing of Information Technology Projects.

Introduction to Project Management Tools and Microsoft Project.

Creating the Project Plan with Microsoft Project.

Project Tracking and Reporting Using Microsoft Project.

Reporting, Tracking, and Customizing Projects.

Appendices.

Bibliography.

Index.
"...an easily read book that could teach many of us useful lessons..." (Measurement & Control, April 2002)