How to Pass the RACP Written and Clinical Exams: The Insider's Guide, 2nd Edition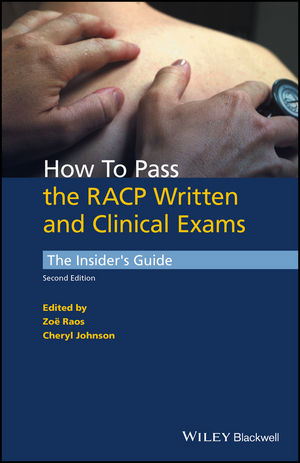 How to Pass the RACP Written and Clinical Exams: The Insider's Guide, 2nd Edition
ISBN: 978-1-118-89263-3 April 2017 Wiley-Blackwell 368 Pages
Description
Surviving the journey through the Royal Australasian College of Physicians (RACP) examinations requires grit, courage and hard work. The second edition of How To Pass the RACP Written and Clinical Exams is fully updated to help candidates – and those who teach them – dig deep to maximise their chances of success.
This insider's guide takes the candidate through the whole process, from preparing for the Written Exam, through to presenting short and long cases in the Clinical Exam. The authors' experiences are combined with tips from recent candidates, wisdom from RACP examiners and advice from specialist contributors. Additional chapters for post-exam registrars and supervisors include career planning, providing feedback, preparing for interviews, and organising the Clinical Exam.
As well as comprehensive guidance for adult medicine candidates, this new edition includes 'Paeds Points' for paediatrics trainees.
Containing a wealth of information, pearls of wisdom, real-life examples and practical advice, this light-hearted insider's guide makes the path through the grueling RACP exams far easier.
Table of contents
Preface xv
About the Authors xvii
Acknowledgements xix
Illustrations xxi
General Disclaimer xxiii
Section 1 The Written Exam 1
1 Introduction to the Written Exam 3
Why Does The RACP Have a Written Exam? 4
When is the Best Time to Sit? 5
How Long Does It Take to Prepare for the Written Exam? 5
Am I Ready to Sit This Exam? 5
Decision Made. Sitting the Written 6
2 Preparation 11
One Year Out – What to Do Before You Even Start Studying 11
3 How to Start Studying for the Written Exam 15
How to Manage Your Time 15
Dealing with Stress 20
Advice from Registrars on Studying and Keeping Sane(ish) 21
Evidence©\Based Study – Break It Down! 24
Getting Down to Work – How to Start Studying 25
4 Topics That Need to Be Covered for the Written Exam 29
What is My Goal? Why Am I Putting Myself Through This? 29
How to Think Like An Examiner for the Written Exam 30
Organising Your Study Time – A Plan of Attack 30
The FRACP Curriculum 31
Topics to Cover 31
Money for Jam 32
Immunology – Special Mention 33
Visual Material in the Exam 34
5 Study Group 35
General Principles That Make Study Groups Effective 35
What Do You Do at Study Group? 36
6 Now We Know How to Study, What Stuff Do We Study From? 39
Wallpapering Your Mind 39
Comprehensive List of Resources for Wallpapering Your Mind 40
Lecture©\Based Resources 40
MCQ©\Based Resources 42
Textbooks and Online Resources 44
Other Useful Textbooks and Resources 46
Technological Advances to Help With Your Study 48
Journals: A Suggested Approach 49
Useful Websites 50
7 Old FRACP Exam Questions 53
Without Us, or You, Breaking the Rules, How Can the Modern Candidate Cope Without FRACP Past and Remembered Papers? 54
What is the Point of Doing Old FRACP and Course Questions? 54
8 Two©\Week Revision Courses 57
Dunedin FRACP Written Examination Revision Course 58
FRACP Written Exam Prep Course – Melbourne 59
Royal Prince Alfred BPT Exam Revision Course – Sydney 59
Short Courses Worthy of Consideration 60
9 Putting It All Together – The Final Three Months 63
Practicalities of Getting to the Exam 63
What to Study 63
Keeping as Calm as Possible 64
Leading Up to the Big Day – The Weeks Before 64
The Day Before 65
On the Day – How to Get Through the Exam 66
10 After the Exam 69
What to Do If You Pass 69
What to Do If You Don't Pass 69
Section 2 The Clinical Exam 71
11 Introduction to the FRACP Clinical Exam 73
Why Is There a Clinical Exam? 75
Getting Your Timing Right: When to Sit the Clinical Exam 75
12 The Clinical Exam Marking Schedule 77
13 Two Weeks of Ground Work 85
Three Key Parts to Passing the Clinical Exam 86
How to Get Humble and Ask for Help 87
The Kit Bag 88
Book Reviews 92
Course Reviews 96
Personal Appearance – First Impressions Count 98
The 'Infection Control' Effect 104
14 How to Start – Doing Your First Practice Cases 105
Know Your Enemies 106
A Few Tricks of the Trade 106
Practising Cases – Who Can Help You the Most? 106
Who Can Help Me Pass This Exam? 107
Mock Exams: Well Worth the Humiliation 109
15 An Introduction to the Long Case 111
What is a Long Case Anyway? 111
Point to Prove in the Long Case 113
Aspects of a Long Case 113
Practising for Long Cases 116
How Many Long Cases Should You Do? 117
Practicalities of Practising 118
What to Do If There Aren't Enough Patients to See 119
Key Long Cases 119
Taking Orderly Notes for Your Long Case 121
Role of the Study Group for the Long Case 122
16 Mastering and Presenting your Long Case 125
A Suggested Style for Long Case Presentation 125
Organising Your Presentation 126
Verbal Signposts 127
Presenting a Case Well – Speech and Drama 101 127
Presentation Template That Worked for Us 128
The Grilling 138
The Aftermath 138
Sentences That Save Time and Sound Slick 139
17 Special Points for Paediatric Cases 141
Specific Points About the Paediatric Long Case 141
The Developmental Case 144
The Adolescent Long Case 149
18 Secret Long Case Species 153
The Chronic Disease Long Case 153
The Single Problem Long Case 154
The Diagnostic Dilemma Long Case 154
The Disaster Long Case 155
19 Top Long Case Tips from Candidates and Examiners 161
Long Case Advice from Candidates 161
Long Case Advice from Examiners 164
20 Suggested Approach to a M¨¡ori Patient in the Long Case 167
21 Long Case Examples 171
Long Case 1 – Multiple Medical Problem Management 171
Long Case 2 – Complicated Diabetes Case 178
Long Case 3 – Diagnostic Long Case 185
Long Case 4 – Adolescent Single Problem Long Case with Transition of Care 193
22 Past Exam Long Cases 203
23 An Introduction to the Short Case 217
Marking Schedule for the Short Case 217
Points to Prove in the Short Case 218
24 How to Put On a Show 223
Part 1: Examination Routine – How to Practise 223
Part 2: Presenting a Short Case 230
Part 3: The Short Case Discussion (Grilling) 233
25 Short Case Advice from Registrars 239
26 Past Exam Short Cases 243
27 Putting It All Together for the Clinical Exam – One Month Out 257
What is Your Presentation Style? 257
General Advice About Style 258
Personalities That Fail the Clinical Exam 259
28 The Lead©\Up to the Exam 265
The Week Before 265
The Day Before 266
The Morning of the Exam – Staying Calm 266
Getting Through Exam Day – Tips From Registrars 267
Final Advice From Examiners 268
Section 3 The F©\words – Freedom, Failure, Feedback, Family, Finding Patients and Fellowship 271
29 The Post©\Exam World 273
Wow! I Passed! 273
Oh. I've Failed 274
The Official Feedback Session 274
30 How to Fail – The Outsider's Guide to the FRACP Exam 275
Chapter Author: Dr Roderick Ryan, General Physician, Box Hill 275
' I Failed the FRACP Exam – What Shall I Do?' 276
Tips for Coping with Failure in the Written Exam 277
Tips for Coping with Failure in the Clinical Exam 278
Seven Key Clinical Exam Skills that Must be Mastered by Those Who Have Failed 279
Snakes and Ladders 281
31 Paying It Forward – How to Provide Feedback for Practice Cases 283
The Feedback Loop 284
Feedback for Clinical Exams 284
32 Studying for the Exams with a Family on Board 291
Chapter Author: Dr Robert Wakuluk, Advanced Trainee, Auckland 291
33 Organising the Clinical Exam 295
First Principles 295
Organising the People and the Space 296
Case Selection Formula 297
Types of Cases You Need to Find 298
Where Are Cases Found? 299
Short Case Patients 301
Long Case Patients 301
Back©\Up Patients 301
The Envelopes 302
'Mind©\Map' and Other Spreadsheets 303
The Day Before 304
On the Day 304
What Examiners Tell the Patients 304
34 Preparing for Your Medical Interview 307
Chapter Author: Dr Nalin Wickramasuriya, Consultant Paediatrician 308
Trap Number 1 – Giving a Straight Answer to a Straight Question 309
The Three Goals of an Interview 309
Rapport 309
Trap Number 2 – The Short Case/Viva Complex 312
Trap Number 3 – Preparing for the Interview Like an Exam 312
Trap Number 4 – Talking Posh on the Day of the Interview 314
Trap Number 5 – Not Planning Your Response When the Interviewer Asks You a Question 315
35 Career Planning 317
I Passed. What Advanced Training Programme Should I Apply For? 317
Pearls of Wisdom 318
Career Path Planning 319
Get a Mentor 320
36 OK, We'll Stop Talking Now! 321
Helping the Next Lot 322
Index 323