How to Persuade and Influence People: Powerful Techniques to Get Your Own Way More Often, Completely Revised and Updated Edition of Life's a Game So Fix the Odds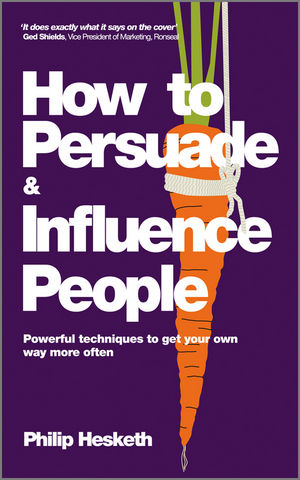 How to Persuade and Influence People: Powerful Techniques to Get Your Own Way More Often, Completely Revised and Updated Edition of Life's a Game So Fix the Odds
ISBN: 978-0-857-08042-4
Sep 2010, Capstone
368 pages
Description
Wouldn't it be great if you could always get people to see things your way? Now you can.
You won't go far in business if you can't bring people round to your way of thinking. Some people find it easy; the rest of us just need a little help. How to Persuade and Influence People reveals some of the most powerful influencing and persuasion techniques known to man. This enhanced second edition contains new tools, new research, new case studies and plenty of practical exercises to help you:
Find the perfect way to win people over
Become an amazing negotiator
Overcome objections
Appreciate and understand the other person's standpoint
Understand why people buy what they buy
Ensure people remember you and what you want
Build long-term trust and credibility
Philip Hesketh is a full-time international business speaker on the psychology of persuasion. Thousands of people have benefited from his advice. In this book, he maps out countless simple and memorable persuasion techniques that can be applied to a whole range of life's challenges. It's up to you to use them.
How to Persuade and Influence People is a completely revised and updated edition of Life's a Game So Fix The Odds.
Preface.
Part 1 The Starting Point – People, Beliefs and Relationships.
1 – Daring to Begin.
2 – The Role of the Subconscious in Influence.
3 – How to be More Liked by More People.
4 – How to Remember People's Names.
5 – How to Develop Good Relationships.
Part 2 Persuasion and Influence.
6 – The Five Keys to Persuasion and Influence.
7 – How to Create Genuine Empathy.
8 – Asking Questions and Accepting the Answers.
9 – Understanding Implications and Influence.
10 – Thinking Long Term and Getting Your Own Way.
11 – The Importance of Preparation in Influencing.
12 – Different Strokes for Different Folks.
Part 3 Overcoming Objections and Negotiation.
13 – Techniques to Handle All Objections.
14 – The First Four Steps to Negotiation.
15 – The Final Four Steps to Negotiation.
16 – Getting People to Do What They Have Agreed to Do.
Part 4 The Reasons People Buy What They Buy.
17 – The Psychology Behind Why People Buy What They Buy.
18 – Rarity.
19 – Empathy and Ego.
20 – Authority.
21 – Special Deal.
22 – Obligation.
23 – Nervousness.
24 – Social Pressure.
25 – How People Choose.
26 – Putting the Reasons Together.
Part 5 How Memory, Learning and Communication Work.
27 – How to Get People to Remember What You Have Said.
28 – How Learning Works and Why Power Point Doesn't.
29 – How to be a More Effective Communicator.
Part 6 Trust, Motivation and What You Need to do Next.
30 – The Seven Things that Really Matter in Relationships.
31 – How to Build Trust That Lasts a Lifetime.
32 – Motivation.
33 – Say What You Are Going to Do and Do What You Say.
34 – Influence, Persuasion and the Purpose of Life.
Appendix: Philip's Purpose.
Philip's Desiderata.
About Philip Hesketh.