How to Present at Meetings, 2nd Edition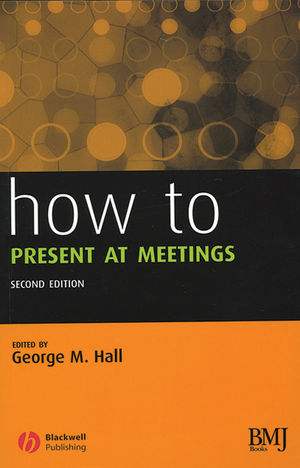 How to Present at Meetings, 2nd Edition
ISBN: 978-1-118-70241-3
May 2013, BMJ Books
88 pages
Product not available for purchase
Description
The second edition of this concise, practical and easily accessible book aims to provide a basic framework for all health care professionals and trainees to give a competent presentation. How to Present at Meetings has been fully revised, offering advice on skills such as how to prepare presentations of varying lengths (10, 20, 45 minutes) and how to work with Powerpoint, complemented by entertaining chapters such as the hilarious 'How Not to Give a Presentation' by Richard Smith.


With well known contributors from medical academic and media backgrounds, this book is the ideal companion for healthcare professionals, clinical researchers and anyone making presentations.
List of Contributors.
Preface to the Second Edition.
Preface to the First Edition.
1 Principles of Communication.
Angela Hall and Peter McCrorie.
2 Preparation of the talk.
Mal Morgan.
3 The three talks.
Mal Morgan.
4 Visual aids.
George M. Hall.
5 Computer-generated slides: how to make a mess with PowerPoint.
Gavin N. C. Kenny.
6 How to appear on stage.
Alan Maryon-Davis.
7 How to sell a message.
Martin Godfrey.
8 How to present a talk.
Charlotte Green.
9 How to deal with questions.
Sir Alexander Macara.
10 How not to give a presentation.
Richard Smith.
11 How to chair a session.
Roger Horton.
Index
"This really is almost an idiot guide to presentation skills but at the same time it is much more.... The book has a nice style and reads almost like a novel with an informal yet informative nature. It is easy to read and good value for money." (Urology News, May/June 2009)
A new edition of this popular 'How To' title



Concise, practical and clean

Covers every aspect - from the timed presentation to dealing with difficult questions

New chapter on grabbing your audience's attention – and keeping it

New chapter on voice modulation and timing