How to Profit from Breakouts Using Options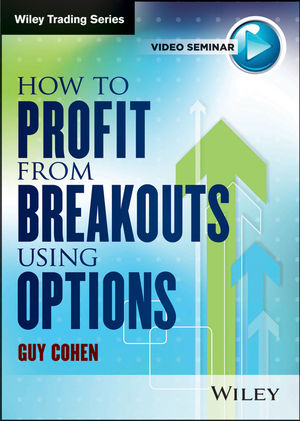 How to Profit from Breakouts Using Options
ISBN: 978-1-118-63155-3 April 2013
Description
Run time: 1 hr 25 min. Right now, traders are making money from stocks that repeatedly consolidate and then break out in explosive moves. With a list of the characteristics all big moves share in your hands, you can consistently grab nice juicy profits. In this brand new course, bestselling author Guy Cohen hands you this simple list, which will put you ahead of the markets and position you for windfall trades.
THE KEY TO BIG MONEY IS FINDING STOCKS THAT LEND THEMSELVES TO THE STRONGEST BREAKOUTS. Cohen has pinpointed these conditions and walks you through each one, including:
Basic, reliable patterns that produce the greatest winning percentage,
How to gain from news and how to incorporate it with technical analysis,
How open interest as an indicator can multiply the profit power of each pattern,
Parameters for options trades that reduce risk and increase upside.
In addition, this course gives you the exact specifications of consolidation patterns. These will spotlight massive upside trades as they build up power. Just think of what you can do when you see these huge moves BEFORE they break out.
Are you looking for a way to make money easily, consistently, and efficiently? In this action-packed DVD, options expert Guy Cohen will teach you how to make a killing from stocks that are about to break out from consolidation patterns in the market. Watch and learn as Guy highlights the nuances of your optimum trading patterns and those you should avoid.
The key to profits is finding suitable stocks, and Guy will show you how to find the right ones to follow and the basic patterns to look for, including:
Flags
Cups and Handles
Continuation Patterns With his straightforward approach, Guy will train you to recognize the signals and will teach you how to capitalize on each pattern.