How to Promote, Publicize, and Advertise Your Growing Business: Getting the Word Out without Spending a Fortune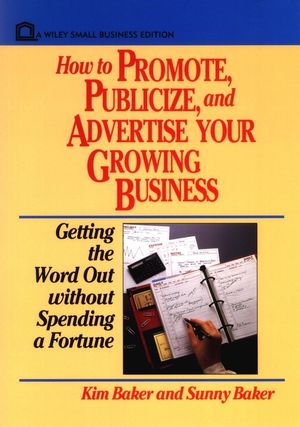 How to Promote, Publicize, and Advertise Your Growing Business: Getting the Word Out without Spending a Fortune
ISBN: 978-0-471-55193-5 April 1992 336 Pages
Description
Builds on what you already know about communications as a basis for becoming an expert in getting messages out to your own marketplace. In-depth coverage explains how to create, manage and produce cost effective advertising, publicity, brochures, catalogs and public relations events. Provides succinct guidelines, step-by-step checklists, easy-to-use charts, money-saving tips for budgets of all sizes and real-world examples which demonstrate the concepts in action.
Table of contents
Partial table of contents:

Marketing Communications: Creating Your Company's Voice to theWorld.

Advertising: Making It from Message to Media Without aMigraine.

Special Events: Producing Seminars, Conferences, and CommunityActivities for More Recognition.

Other Communication Tools: Using Identity, Tradeshows,Packaging, and Special Promotions for Best Results.

The Best Vendors for a Project: Matching Personalities andCapabilities to Your Needs.

Common Marketing Communications Problems: Recognizing Them andBailing Yourself Out Before It's Too Late.

The Marketing Communications Glossary.

Useful References.

Bibliography.

Index.