How to Read a Paper: The Basics of Evidence-based Medicine, 3rd Edition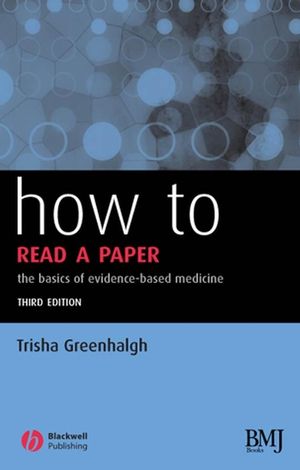 How to Read a Paper: The Basics of Evidence-based Medicine, 3rd Edition
ISBN: 978-1-444-30565-4
Mar 2009, BMJ Books
248 pages
Product not available for purchase
Description
How to Read a Paper is one of the bestselling texts on evidence-based medicine, used by health care professionals and medical students worldwide. Trisha Greenhalgh's ability to explain the basics of evidence-based medicine in an accessible and readable way means the book is an ideal introduction for all, from first year students to experienced practitioners.


This is a text that explains the meaning of critical appraisal and terms such as 'numbers needed to treat', 'how to search the literature', 'evaluate the different types of papers' and 'put the conclusions to clinical use'.


New features of the third edition include:



New discussion putting evidence-based medicine into the current context, with more emphasis on patient perspectives

Increased coverage of qualitative research in evidence-based medicine

New information on literature sources and search mechanisms
1 Why read papers at all?.
2 Searching the literature.
3 Getting your bearings: what is this paper about?.
4 Assessing methodological quality.
5 Statistics for the non-statistician.
6 Papers that report drug trials.
7 Papers that report diagnostic or screening tests.
8 Papers that summarise other papers (systematic reviews and meta-analyses).
9 Papers that tell you what to do (guidelines).
10 Papers that tell you what things cost (economic analyses).
11 Papers that go beyond numbers (qualitative research).
12 Papers that report questionnaire research.
13 Getting evidence into practice.
.
Appendix 1 Checklists for finding, appraising and implementing evidence.
Appendix 2 Assessing the effects of an intervention.
.
Index
"One of the greatest aspects of this book is the section relating to searching the literature and whilst we may think we may all practise this on a fairly regular basis under the assumption that we do a pretty decent job of it, this section holds the key to excelling." (Urology News, May/June 2009)
New edition of a bestselling title
* A must-have text for health professionals and students worldwide
* New introductory material placing evidence-based medicine in its social/historical context
* Thoroughly updated, with more information on databases and relevant websites
* Detailed coverage of qualitative research