How to Read a Shakespeare Play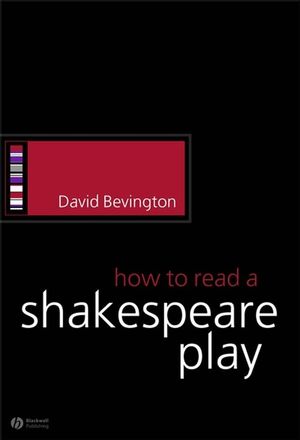 How to Read a Shakespeare Play
ISBN: 978-1-405-11395-3
Jun 2006, Wiley-Blackwell
184 pages
Description
This clear and succinct book is designed for general readers who want to know how to go about reading Shakespeare's works for pleasure.

Encourages readers to approach Shakespeare's works aggressively, interactively, and questioningly

Focuses on six popular Shakespeare plays - A Midsummer Night's Dream, Romeo and Juliet, Henry IV Part I, Hamlet, King Lear and The Tempest

Recommends the best editions, recordings and DVDs / videos of these plays

Discusses the production of the plays on stage and screen

Introduces readers to different genres in Shakespeare – romantic comedy, English history, tragedy and romance

Avoids jargon and abstract literary theory
List of Illustrations.
1. How to Read a Shakespeare Play.
2. A Midsummer Night's Dream.
3. Romeo and Juliet.
4. Henry the Fourth, Part I.
5. Hamlet.
6. King Lear.
7. The Tempest.
8. Epilogue.
Further Reading.
Index
"The first chapter is a fabulous, full-frontal, thirteen-page assault that both dispenses information and suggests effective questions that student readers might employ when reading a text in order to 'read aggressively' (p. 9). What is mildly revolutionary is that it is here, in print, ready to be easily disseminated to students and thus to more easily and readily articulate the type of engagement with a text that we hope and expect our students will undertake. Bevington challenges his readers to think in historical, theatrical, and characterological terms. Bevington's list is instructive and at times brutally honest. Schools should consider investing heavily in this text for the benefit of their pupils; college or university-level students would also be aided by Bevington's straightforward, avuncular reading advice." (Year's Work in English Studies, 2008)


A clear and succinct guide to reading Shakespeare's works for pleasure

Encourages readers to approach Shakespeare's works aggressively, interactively, and questioningly

Focuses on six popular Shakespeare plays - A Midsummer Night's Dream, Romeo and Juliet, Henry IV Part I, Hamlet, King Lear and The Tempest

Recommends the best editions, recordings and DVDs / videos of these plays

Discusses the production of the plays on stage and screen

Introduces readers to different genres in Shakespeare – romantic comedy, English history, tragedy and romance

Avoids jargon and abstract literary theory