How to Save Thousands of Dollars on Your Home Mortgage, 2nd Edition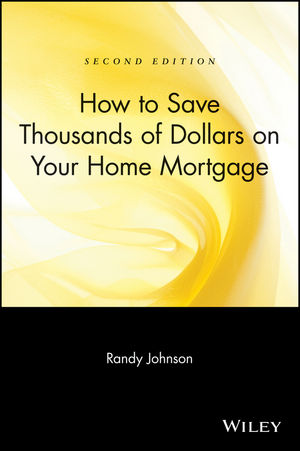 How to Save Thousands of Dollars on Your Home Mortgage, 2nd Edition
ISBN: 978-0-471-22327-6 August 2002 304 Pages
Description
Find The Home Mortgage That's Right For You

Finding the right mortgage can be complex, confusing, and frustrating. But that doesn't mean you have to settle for anything other than the terms you want. This indispensable and newly updated second edition of How to Save Thousands of Dollars on Your Home Mortgage spells out everything mortgage hunters need to know in clear and accessible terms. It covers more loan alternatives than any other book and examines the importance of discount points. It offers complete details on virtually every mortgage option currently available, what advantages each option offers, how to choose the right one for your needs, and how to save money in the process. New information in this edition will help you use the Internet to find a home and get a mortgage, examine automated underwriting models and conforming loan limits, and weigh new shopping strategies. Easy-to-read charts and graphs, helpful sample forms, and numerous examples will help you understand:
* First-time buyers programs
* APR, buy-downs, reverse mortgages, accelerated payoffs, and zero point loans
* Refinancing strategies
* Closing costs, lender fees, and other expenses
* How to dispute credit report errors and fix credit problems
* How to use the Internet for loan analysis
Foreword.

Introduction.

PART 1: BACKGROUND.

The Structure of the Mortgage Industry.

How Lenders Influence Borrowers' Choices.

How Lenders Market Loans.

How to Choose the Right Loan.

KEY POINTS.

For First-Time Home Buyers.

PART 2: CHOOSING A LENDER AND GETTING APPROVED.

Qualifying 101.

Credit.

Bank, S&L, or Broker?

Shopping for a Loan and Negotiating with a Lender.

APR, Buy-Downs, and Discount Points.

What to Do When You Run into a Problem.

QUALIFYING PROBLEMS.

PART 3: LOCKING AND CLOSING.

How Lenders Can Cheat Their Customers.

Closing Costs, Lender Fees, and Other Fees.

PART IV: ADVANCED TOPICS.

Qualifying 201.

Refinancing.

Fifteen-Year Loans and Accelerated Payoffs.

Equity Lines, Seconds, and Reverse Mortgages.

No-Cost and Zero-Cost Loans.

Technology: The Internet and Software.

THE MORTGAGE INDUSTRY ON-LINE.

Epilogue: On the Need for Reform and Other Thoughts.

Appendix.

Glossary.

Index.