How to Sell a House Fast in a Slow Real Estate Market: A 30-Day Plan for Motivated Sellers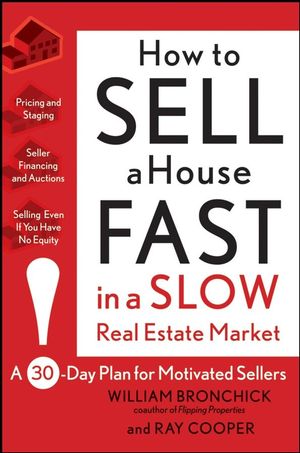 How to Sell a House Fast in a Slow Real Estate Market: A 30-Day Plan for Motivated Sellers
ISBN: 978-0-470-38260-8 October 2008 256 Pages
Description
In a slow real estate market, selling your house can be difficult– especially if you owe more on your mortgage than your house is worth. In times like these, it's not enough to simply list your home and wait; you actually have to sell your home. This practical, important book shows you how to use marketing techniques, advertising, repairs and upgrades, home staging, and other creative, effective tactics to get your house sold fast— no matter how bad the market is.
INTRODUCTION.
CHAPTER 1 Attitude Is Everything in a Down Market.
CHAPTER 2 How to Research Your Competition and Learn Your Market.
CHAPTER 3 The Secret of Effectively Pricing Your House for a Quick Sale.
CHAPTER 4 Preparing to Show Your House for Sale—You Only Get One Chance to Make a Good First Impression.
CHAPTER 5 The Best Offense Is a Good Defense—Getting Your Information Organized.
CHAPTER 6 Choose the Right Agent or Sell It Yourself—Which Is Right for You?
CHAPTER 7 Owner Financing—Your Secret Weapon in a Soft Market.
CHAPTER 8 The Right Way to Do an Open House.
CHAPTER 9 Negotiating the Deal—You've Got a Buyer, So Don't Blow it!
CHAPTER 10 It's Been Several Months and It Hasn't Sold—Try the Round-Robin Auction Method!
CHAPTER 11 Help, My House Is Worth Less than I Owe!
CHAPTER 12 Review and Action Plan.
WEBSITE DIRECTORY.
APPENDIX A: COST OF VARIOUS PROFESSIONALS.
APPENDIX B: CHECKLIST OF REPAIR/REPLACEMENT ITEMS.
APPENDIX C: COMPS SHEET ANALYSIS FORM.
APPENDIX D: STAGING CHECKLIST.
APPENDIX E: SAMPLE ADS AND SIGNS FOR LEASE/OPTION OR OWNER FINANCING.
APPENDIX F: OPEN HOUSE SIGN-IN SHEET.
APPENDIX G: ROUND ROBIN BID SHEET—CASH SALE.
APPENDIX H: ROUND ROBIN BID SHEET—OWNER FINANCED SALE.
APPENDIX I: STATE-BY-STATE LIST OF COMMONLY USED SECURITY LIEN.
INDEX.