How to Sell at Margins Higher Than Your Competitors: Winning Every Sale at Full Price, Rate, or Fee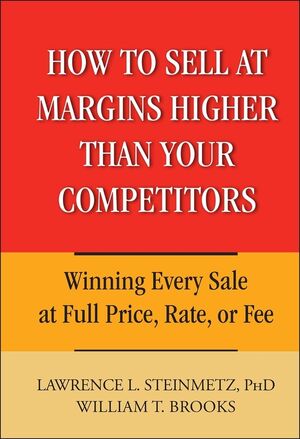 How to Sell at Margins Higher Than Your Competitors: Winning Every Sale at Full Price, Rate, or Fee
ISBN: 978-1-118-04061-4
Dec 2010
272 pages
Description
Praise for How to Sell at Margins Higher Than Your Competitor

""This is the complete book for both new and experienced salespeople and business owners to learn and re-learn the essentials for success. How to Sell at Margins Higher Than Your Competitors emphasizes the pricing strategies and tactics to increase the market share and profits of any organization. This is a book that is as important to presidents as it is to salespeople.""
--Bill Scales, CEO, Scales Industrial Technologies, Inc.

""As the largest service provider in our industry, we have a significant market advantage. However, we constantly walk the pricing tightrope because, as this book so clearly states, 'business is a game of margins . . . not a game of volume!'""
--John K. Harris, CEO, JK Harris & Company, LLC

""If you live and die on price, this book could be your only lifeline.""
--Tom Reilly, CSP, author of Value-Added Selling and Crush Price Objections

""How to Sell at Margins Higher Than Your Competitors successfully illustrates profitable sales truths to assist us in selling for maximum return. This book's well-researched, logical, and affirming words validate the simple fact that as a premium company we deserve premium margins. So, while our competitors reduce or match prices out of fear and scarcity, our managers, thanks to this powerful sales tool, can continue quoting and closing with profitable confidence.""
--Joe Bracket, President, Power Equipment Company

""I learned a long time ago that it is pretty difficult to control what my competitors will do, but we must control what we do--like maintaining margins. This book is a 'wow!' that will help my salesmen crack bad habits. Sales organizations should design their entire training programs around the content in this book.""
--George C. Giessing, President, Brusco-Rich, Inc.

""This energizing book is the 'right stuff' for every sales force. It should be a required study for every executive and sales professional who seeks to be successful.""
--David R. Little, Chairman and CEO, DXP Enterprises, Inc.
Chapter 1: Employers Can Fail or Go Broke—And Yours Can, Too.
Chapter 2: But Competition Keeps Cutting My Price.
Chapter 3: Determining Your Competitive Advantage.
Chapter 4: Service as Your Competitive Advantage.
Chapter 5: Why You Really Shouldn't Mess with Price-Buyers.
Chapter 6: What Buyers and Customers ReallyNeed—Hint: It Isn't Low Price.
Chapter 7: Things Buyers Would Like Besides a Low Price.
Chapter 8: Your Competitors'Delivery Problems Will Get You Profitable Sales.
Chapter 9: Yeah, But I'll Make More Money If I Cut My Price—And I Don't Care If My Employer Does Go Broke.
Chapter 10: How to Face a Competitor's Price Cuts.
Chapter 11: The Two Cardinal Sins of Selling.
Chapter 12: Buyers Make Good Liars . . . If You Let Them.
Chapter 13: How to "Hang in There" under Intense Pressure to Cut Your Price.
Chapter 14: Indicators That You Are Underpricing.
Chapter 15: Indicators That You Are Overpricing.
Chapter 16: How Prospects Will Attempt to Get You to Cut Your Price.
Chapter 17: How to Finalize a Transaction When You're Faced with Price Resistance.
Chapter 18: General Guidelines on How to Price.
Chapter 19: Final Thoughts on Selling at Prices Higher Than Your Competitors.
Appendix: The Premium Price Seller's Ready Reference Guide.
Notes.
About the Authors.
Index.