How to Survive Dental Performance Difficulties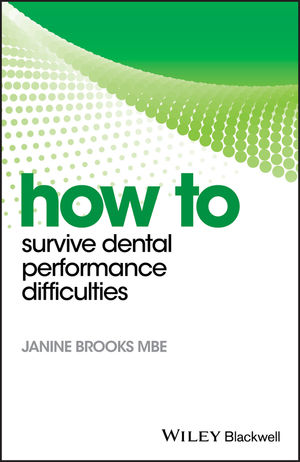 How to Survive Dental Performance Difficulties
ISBN: 978-1-119-25562-8
Jul 2018, Wiley-Blackwell
208 pages
Product not available for purchase
Description
How to Survive Dental Performance Difficulties offers an authoritative guide for successfully navigating and overcoming dental performance issues.
Offers a practical guide for preventing and overcoming dental performance issues
Highlights case studies of dental professionals who have direct experience of being referred for fitness to practise issues
Includes information on the support available to dental professionals, the requirements that need to be met, and how to meet them
Contains information on the effective use of evidence, improvement practice tools such as personal development plans, continuing professional education, reflective diaries, and audits
Offers guidance on how to increase self-awareness and insight
Foreword
Acknowledgements
Chapter 1 The basics of performance
Introduction
What is performance?
What is poor performance?
Fitness to Practise
Red Door/Green Door
Chapter 2 Background and Contributory factors – how performance issues can arise
Introduction
Pressures on Dentists
Factors that underpin poor performance
Health
Clinical Knowledge and expertise
Environment/Context
Behavioural/Attitudinal Factors
Patient Factors
Culture
Climate
Work-life balance
Emotional state
Chapter 3 Professionalism
What is professionalism?
What does professionalism encompass?
How should a professional behave?
Society expectations of professionals
Character
Building blocks of Character
Ethical frameworks professionals operate within
The GDC principles
Where does Character stand in relation to professionalism?
Tests of Integrity
Virtue Ethics
Honesty and Dishonesty
Nelsonian Dishonesty
Communication
Criminal record, convictions and cautions
Cautions
Conditional discharges
Scotland
Protect conviction or caution
Chapter 4 Regulation of Dentistry and Dental Professionals
Regulation
General Medical Council
General Pharmaceutical Council
General Dental Council
Registration
NHS England
Care Quality Commission
Healthcare Inspectorate Wales
Scotland
Northern Ireland – The Regulation and Quality Improvement Authority
Health and Social Care Board
Professional Standards Authority
Regulation of Dental Services Programme Board
Health and Safety Executive
Medicines and Healthcare Products Regulatory Agency
Right touch regulation
Chapter 5 Organisations that play a supporting role
Organisations
Specialist Indemnity Providers
Educational Support
Health Educational England – Local Education and Training Boards
Post graduate Dental Deaneries
NHS Education for Scotland
Training, Revision and Mentoring Support Programme
NHS Wales
Northern Ireland
The UK Committee of Postgraduate Dental Deans and Directors
Health Support
Dentists' Health Support Trust
Practitioner Health Programme
British Doctors and Dentists Group
Sick Doctors Trust
Mentoring/Professional Support
Local Dental Committees
Dental Mentors UK
Advisory Support
National Clinical Assessment Service
Health Boards
Practitioner Services Division
Conclusion
Chapter 6 The Anatomy of a Fitness to Practise case
Introduction
Fitness to Practise
General Dental Council
Fitness to Practise process
Interim Orders Committee
Investigating Committee
Practise Committees
Professional Conduct Committee
Professional Performance Committee
Health Committee
Sanctions
Conviction/cautions
Analysis
Most common findings
Erasure
Conclusion
Chapter 7 Registrant's Journey, Personal Statements and Case Studies
How it can begin
Outline of the Hero's Journey
Case Studies
Stages of change or grief
Taking a preventive approach
Chapter 8 Building self-awareness and insight
Self awareness
Insight
Learning Styles
Meyer-Briggs Type Indicator
Neuro-Linguistic Programming
Common Limiting Beliefs
Representational Systems
Perceptual Positions
Thomas-Kilmann Conflict Mode Instrument
Chapter 9 Tools that can help
Enhanced CPD
Personal Development Plan
Peer Review
Professional discussion and dialogue
Case Studies/Case Presentations
Clinical Audit
Staff Meetings
Patient surveys
360 degree feedback
Standards, national guidelines
Working with a mentor
Working with a coach
Appendix A Personal Development Plan template
Appendix B Patient Engagement Questionnaire
Appendix C Influencing Skills Questionnaire – 360 colleague feedback
10 Supporting colleagues who struggle
Skills for supporters
Reflective practice/writing and learning
The roots of Reflective Practice
Reflective models
Gibbs model
Writing reflectively
Johari Window
Karpmann Triangle
Cost Benefit Analysis
Force Field Analysis
Neuro-logical levels
Conclusion
Index