How to Survive a Medical Malpractice Lawsuit: The Physician's Roadmap for Success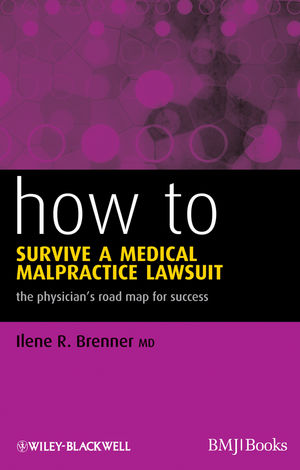 How to Survive a Medical Malpractice Lawsuit: The Physician's Roadmap for Success
ISBN: 978-1-444-39037-7 September 2010 BMJ Books 176 Pages
Download Product Flyer
Download Product Flyer
Download Product Flyer is to download PDF in new tab. This is a dummy description. Download Product Flyer is to download PDF in new tab. This is a dummy description. Download Product Flyer is to download PDF in new tab. This is a dummy description. Download Product Flyer is to download PDF in new tab. This is a dummy description.
Description
Everyone seeks to avoid getting into a lawsuit, but what do you do if this does happen?
Getting sued for medical malpractice is one of the most traumatic events of a physician's career.
This text will guide doctors and physicians through the process from the moment they receive a summons until the after-trial appeal process.
Containing valuable information that physicians need to know to prevent making critical mistakes that can hurt their case
With strategies explained to maximize their chances of a defendant's verdict.
Including vital information on how to change your attorney, act at the deposition and dress for court,
Navigating through what is a mysterious and terrifying process in non-legalese language that is easy to understand including what makes patients angry, strategies for coping, sample questions and tips on answering them to what happens in court and how to continue if there is a bad outcome.
Table of contents
Acknowledgments.
Foreword.
Introduction.
Section 1: The long road to trial.
1 You've been served! Now what?
Questions to ask your insurer about your policy.
What are the options if your employer purchases your insurance policy and dictates the terms?
When and how to report a claim.
A few pitfalls to avoid after you've been sued.
2 What is medical malpractice?
The criteria of physician legally defined malpractice.
EMTALA issues.
Complaints to the medical board.
Alternative Dispute Resolution (ADR).
3 How to choose an attorney.
Questions to ask your attorney.
Conflicts of Interest.
Problems with the Hospital as co-defendant.
How do you change your attorney?
4 Coping with a medical malpractice lawsuit.
Kübler-Ross five stages of grief.
Maslow five stages of needs.
Strategies for coping.
5 Before the deposition.
Differences between federal and state court.
Addressing the complaint.
The discovery phase begins.
Meeting with your attorney.
The in-house physician review.
6 Nail the deposition.
Preparing for the deposition.
Dealing with co-defendant issues.
General deposition rules and tips.
Sample question and answer scenarios.
7 All about experts.
Expert qualifications.
Daubert rules regarding medical expert testimony.
The defense expert.
The plaintiff 's expert.
Using the plaintiff 's expert to help your case.
What if their expert is lying?
8 Pretrial countdown.
Reviewing your deposition.
Motions to dismiss the case.
Should you settle your case?
Preparing for trial.
9 The trial.
Rules to follow when in court, e.g. How you should dress.
Jury selection.
The cross-examination with tips and question and answer scenarios.
Jury Deliberation.
Damages.
10 What to do if you lose.
What are the steps to getting an appeal?
Can you get your attorney to file an appeal?
Settling in lieu of an appeal.
Section 2: An ounce of prevention.
11 Why doctors get sued.
Bad outcome.
Should you apologize?
What makes patients angry?
Methods to prevent patients from becoming angry.
12 Communication Issues.
Effective communication.
Foreign language issues.
Informed consent.
13 Good documentation makes a difference.
Documentation of Informed Consent.
Destroy your diary or patient log before you get sued.
Be aware of your electronic footprint.
14 Liability risk with the use of physician extenders.
Vicarious Liability.
How should you run your practice?
15 Hospital issues.
Peer Review.
Hospital Privileges.
Risk Management: Does it help you?
The Against Medical Advice (A.M.A.) form.
Suspension of privileges.
16 Summary.
Appendix A Expert qualification requirements vary by state.
Appendix B Arbitration mediation and pretrial screening panels.
Appendix C Collateral source reform.
Appendix D I'm Sorry Laws.
Glossary.
Index.
Reviews
" This excellent and thorough book on malpractice should be on every practicing physician's bookshelves." (Doody's, 2 March 2012)