How to Survive in Medicine: Personally and Professionally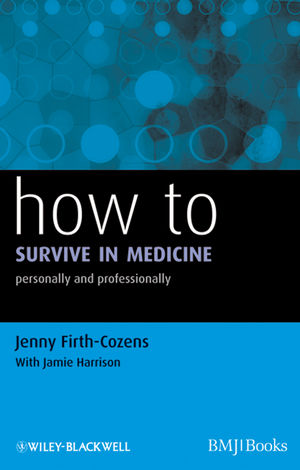 How to Survive in Medicine: Personally and Professionally
ISBN: 978-1-118-70314-4 May 2013 BMJ Books 136 Pages
Description
Medicine is a career that most people consider to be enviable. Whatever one's criteria for a good job, being a doctor ticks a lot of boxes: doctors are needed, respected, well remunerated and can make a difference between life and death Increasingly, doctors are experiencing stress, depression and anxiety, fuelled by the increasing demands of the health services, and the lack of resources to support them.

Focussing on the causes, symptoms and management of psychological problems experienced by doctors at all stages in their careers, this book considers the difficulties and stressors of medicine as a career, linking to studies that look at what interventions are successful in the workplace and offering various solutions.

Including:
A study based over 20 years of doctors' stress factors
Case histories to bring the subject to life
Guidance on choosing a specialty, dealing with difficult people, stress and demands 37
A valuable resource both for trainers and doctors alike.
Introduction.
Part 1: The job and you.
1 It's just a difficult job.
2 Why me?
Part 2: Waving, not drowning.
3 You and your partner: for life?
4 Choosing a specialty.
5 Dealing with stress.
6 Down in the dumps.
7 Difficult people?
8 Feeling angry.
9 A little too much.
10 Demands, demands, demands!
11 Can you afford emotions?
12 To err is human.
13 Managing the stress and problems of others.
Index.
""I would recommend this book to the readership of the Journal, because it deals with important issues that face those in our profession in a reasonably comprehensive way."" (Canadian Journal of Neurological Sciences, 1 July 2011)
""This book is a splendid receipe for survival, crammed with highly-detailed solutions in a practical, light-hearted presentation."" (RoSPA Occupational Safety & Health Journal, 1 July 2011)
""This self-help book small in size, certainly considering that it should be manageable for a busy doctor. The presentation is perceived to some extent influenced school book, with sandwiches lists of complaints or actions. . . but it points to both organizational and individual factors that are important to be aware of and that in many cases can be dealt with to get a better workday."" (Journal of the Norwegian Medical Association, 18 November 2010)