How to Write a Paper, 4th Edition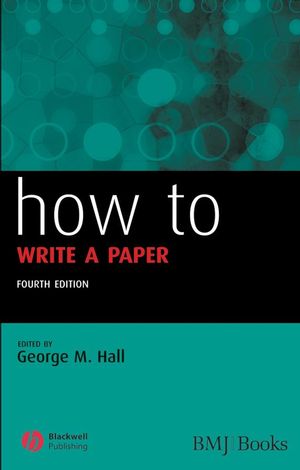 How to Write a Paper, 4th Edition
ISBN: 978-1-444-36007-3 August 2011 BMJ Books 168 Pages
Description
This bestselling guide provides clear instructions on getting published in biomedical journals. Now in its fourth edition,
How to Write a Paper
has been fully revised and updated to include all aspects on writing each section of a structured paper incorporating the latest information on open access, electronic publication and submission.
Written by editors of leading medical journals as well as publishing experts, this guide is relevant and easy to use for any novice writer wanting to publish in journals.
Table of contents
List of Contributors.
Preface to the Third Edition.
Preface to the Fourth Edition.
Chapter 1 Structure of a scientific paper (George M. Hall, University of London).
Chapter 2 Introductions (Richard Smith, United Health Europe, London).
Chapter 3 Methods (Gordon B. Drummond, University of Edinburgh).
Chapter 4 Results (Hans-Joachim Priebe, University Hospital, Freiburg).
Chapter 5 Discussion (George M. Hall, University of London).
Chapter 6 Titles, abstracts, and authors (Fiona Moss, London Deanery, NHS London).
Chapter 7 References (Simon Howell, University of Leeds and Liz Neilly, University of Leeds).
Chapter 8 Electronic submissions (Natalie Davies, The Lancet).
Chapter 9 How to write a letter (Michael Doherty, University of Nottingham).
Chapter 10 How to prepare an abstract for a scientific meeting (Robert N. Allan, Royal College of Physicians, London).
Chapter 11 How to write a case report (Martin Neil Rossor, Dementia Research Centre, London).
Chapter 12 How to write a review (Paul Glasziou, University of Oxford).
Chapter 13 The role of the editor (Jennifer M. Hunter, University of Liverpool).
Chapter 14 The role of the manuscript assessor (Domhnall MacAuley, BMJ).
Chapter 15 What a publisher does (Alex Williamson, BMJ Group).
Chapter 16 Who should be an author? (Richard Horton, The Lancet).
Chapter 17 Style: what it is and why it matters (Margaret Cooter, BMJ Publishing Group).
Chapter 18 Ethics of publication (Michael J.G. Farthing, University of Sussex).
Chapter 19 Electronic publishing (Craig Bingham, Australasian Medical Publishing Company).
Chapter 20 Open access (Mark Ware, Mark Ware Consulting).
Index.
Reviews
"In summary, this book is recommended when planning a first publication, but the high-level view might also offer additional perspectives to more experienced researchers as well as non-researchers. I would put it in the library."  (Occupational Medicine, 1 August 2013)
"The contributions [to this title] are written by people who know what they are talking about, and that is why I think the book worked.... It has a feel of the real world. Much of the advice is sound as well as clearly summarised." (
Evidence Based Medicine
, April 2009)
"This is a great book and its early promise was fulfilled with ease. Anybody involved in writing papers would benefit from this book.... An excellent book: 10/10." (Urology News, May/June 2009)
"The book is written for medical journal authors, but the advice is applicable much more broadly. The book offers numerous practical tips … .The book also offers a behind-the-scenes peek into the world of editors, publishers and assessors (reviewers), as well as discussions of ethics, authorship and other related topics." (Journal of Clinical Research Best Practices, December 2008)
What's New
New edition of a bestselling guide to getting published in biomedical journals


Provides concise instructions on writing each section of a structured paper

Written by editors of leading medical journals

New chapter on open access

Updated throughout, including latest information on electronic submission and publication
·