How to catch the Big Idea: The Strategies of the Top-Creatives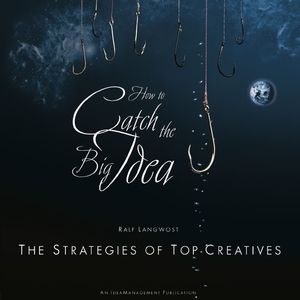 How to catch the Big Idea: The Strategies of the Top-Creatives
ISBN: 978-3-895-78238-1
Jan 2005
294 pages
Description
Great and successful advertising ideas do not come about just by chance; they result from a professionally managed creative process. That is the reason why top creative agencies and clients can repeatedly come up with great ideas. This book shows what these creative experts have in common. This is emphasized by numerous original quotes from interviews held by the author with more than 70 such communication experts from 15 countries. To answer the exciting question "how to be creative faster, more often and with more precision?"

For all those involved in the creative process, this book provides a practical workflow structure and powerful tips for coming up with great communication ideas. Starting with the first meeting with the client proceeding on through briefing, gathering information, strategic writing of the benefits, finding the idea, describing and rating it, and finally producing the idea and making sure that it is well protected. This book shows the reader how to optimize his/her own thought process and working method - effectively, clearly and independently.

"How to Catch the Big Idea" provides practical, powerful and inspiring impetus for the reader´s daily business. The book clearly and concretely describes how to develop and manage great ideas. It shows how to create a relevant strategy and ultimately put it to effect, to establish and support an effective and more creative working structure. Whoever wants to learn from the world´s best creatives will really enjoy this book.
Management Principles for Big Ideas.
The idea as the most intensive manifestation of energy. The value of Big Ideas.
The vision: How to create a company that works for big ideas.
The client: How to make your client a great creative director.
The mission: How to transform a great problem into a great idea.
The information: How to win an insight, that makes a difference.
The strategy: How to give an idea a clear and relevant direction.
The creative brief: How to focus an energy to start an idea.
The finding of ideas: How to receive an answer that you did not expect.
The description of ideas: How to work with an idea without losing it.
The assessment of ideas: How to judge an idea professionally.
The presentation of ideas: How to let the energy of an idea jump over.
The protection of ideas: How to protect a Great Idea before it appears.
The production of an idea: How to manifest a magic kiss.
Successful ideas change the world. Will you change the world?

"As we are in the business of ideas, this is a great one."
John Hegarty, Founder BBH, London