Hugo and Russell's Pharmaceutical Microbiology, 7th Edition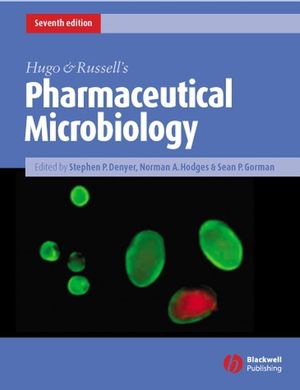 Hugo and Russell's Pharmaceutical Microbiology, 7th Edition
ISBN: 978-0-470-98832-9 November 2007 Wiley-Blackwell 496 Pages
Description
Completely revised and updated Pharmaceutical Microbiology continues to provide the essential resource for the 21st century pharmaceutical microbiologist
"....a valuable resource for junior pharmacists grasping an appreciation of microbiology, microbiologists entering the pharmaceutical field, and undergraduate pharmacy students."
Journal of Antimicrobial Chemotherapy

".....highly readable. The content is comprehensive, with well-produced tables, diagrams and photographs, and is accessible through the extensive index."
Journal of Medical Microbiology

WHY BUY THIS BOOK?



Completely revised and updated to reflect the rapid pace of change in the teaching and practice of pharmaceutical microbiology


Expanded coverage of modern biotechnology, including genomics and recombinant DNA technology


Updated information on newer antimicrobial agents and their mode of action


Highly illustrated with structural formulas of organic compounds and flow diagrams of biochemical processes
Contributors.
Preface to Seventh Edition.
Preface to First Edition.
.
Part 1: Biology of Microorganisms.
1. Microbiology in Pharmacy.
2. Fundamental Features of Microbiology.
3. Bacteria.
4. Fungi.
5. Viruses.
6. Other Micro-organisms.
7. Principles of Microbial Pathogenicity and Epidemiology.
Part 2: Antimicrobial Agents.
8. Immunology.
9. Vaccination and Immunisation.
10. Types of Antibiotics and Synthetic Antimicrobial Agents.
11. Laboratory Evaluation of Anti-Microbial Agents.
12. Mechanisms of Action of Antibiotics and Synthetic Antiinfective Agents.
13. Resistance to Antibiotics.
14. Clinical Uses of Anti-Microbial Drugs.
Part 3: Microbiological Aspects of Pharmaceutical Processing.
15. Ecology of Micro-Organisms in Pharmaceutical Manufacture.
16. Microbial Spoilage and Infection Risk.
17. Chemical Disinfectants, Antiseptics and Preservatives.
18. Mode of Action of, and Resitance to, Non-Antibiotic Anti-Microbial Agents.
19. Sterile Pharmaceutical Products.
20. Principles of Sterilisation and Sterility Assurance.
21. Factory and Hospital Hygiene.
22. Manufacture of Antibiotics.
23. Manufacture and Quality Control of Immunological Products.
24. Pharmaceutical Biotechnology.
25. Additional Applications of Microbiology in the Pharmaceutical Sciences
"undoubtedly a valuable resource for junior pharmacists grasping an appreciation of microbiology, microbiologists entering the pharmaceutical field, and undergraduate pharmacy students."
Journal of Antimicrobial Chemotherapy
"This book is highly readable. The content is comprehensive, with well-produced tables, diagrams and photographs, and is accessible through the extensive index."
Journal of Medical Microbiology
Reviews of previous editions:

"I would recommend it to both students and practitioners of pharmaceutical microbiology."
Journal of Medical Microbiology
"an excellent groundwork for students of pharmacy and other biomedical sciences."
Society for General Microbiology Quarterly
"deals with its subject matter in a concise but comprehensive manner and is to be highly recommended."
Australian Journal of Medical Science
* Expanded coverage of modern biotechnology, including genomics and recombinant DNA technology
* Updated information on newer antimicrobial agents and their mode of action
* Discusses increasing problems of natural and acquired resistance to antibiotics
* Highly illustrated with structural formulas of organic compounds and flow diagrams of biochemical processes
* Several chapters under new authorship to produce a fresh approach to the subject